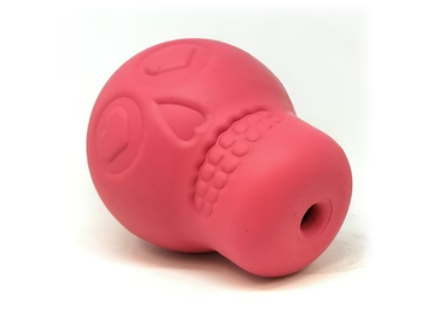 SodaPup Chew Dog Toy + Treat Dispenser - Large Pink Skull
Let your pup enjoy their enrichment time with Soda Pup's pink Day of the Dead sugar skull treat dispenser! Built to stand up to heavy chewing. Fill with treats or kibble, soft or canned dog food, peanut butter, or your very own favorite dog treat recipe. For optimum results, mix wet and dry foods, and to prolong the excitement, freeze the toy with goodies inside!
Dishwasher safe. Made in the USA from a natural rubber compound that is FDA compliant and non-toxic.
Size: Large 4.25" tall x 3.25" wide 
Weight: 8 oz.
Volume: 6 fl. oz.
Best for dogs 30-65 lbs/15-30 kg.

SodaPup Chew Dog Toy + Treat Dispenser - Large Pink Skull