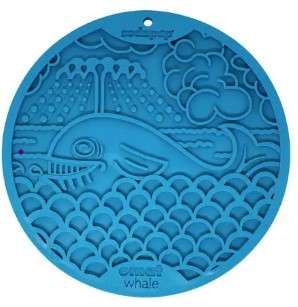 SodaPup Dog Enrichment Lick Mat with Suction Cups - Blue Whale Design
Soda Pup's Whale Design eTray comes with suction cups on the back - perfect for giving your dog something enjoyable to do during bath time or other grooming or care activities. The adorable whale design provides lots of nooks and crannies - spread peanut butter, yogurt, wet food, canned pumpkin, or other spreadable treats on the surface of the tray. Stick it to the wall or another surface and let your dog lick the goodies off. Freeze for an added challenge.

Non toxic. Microwave, dishwasher, and freezer safe. 
Size: 8" diameter, 0.25" thick. 
Weight: 4 oz.
SodaPup Dog Enrichment Lick Mat with Suction Cups - Blue Whale Design