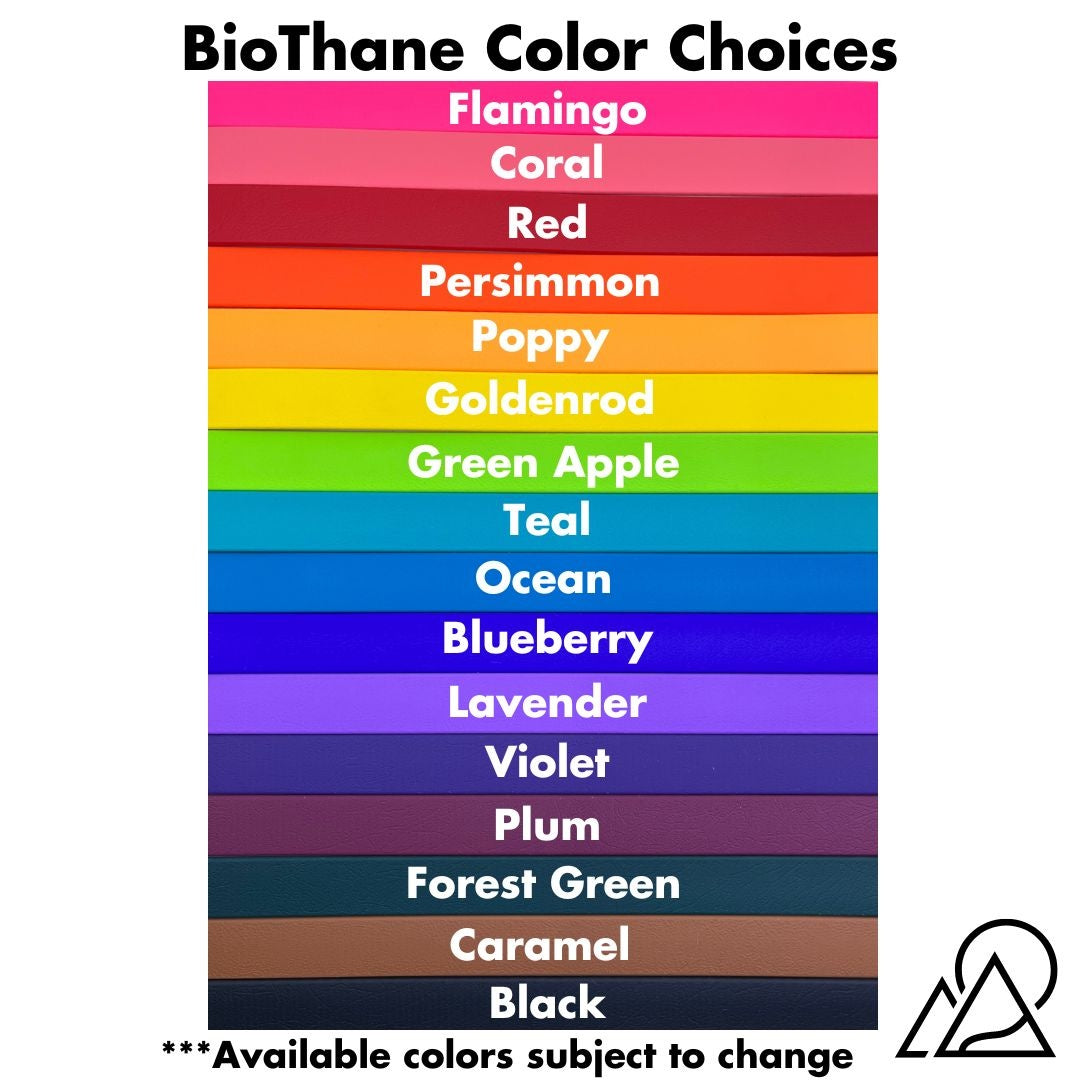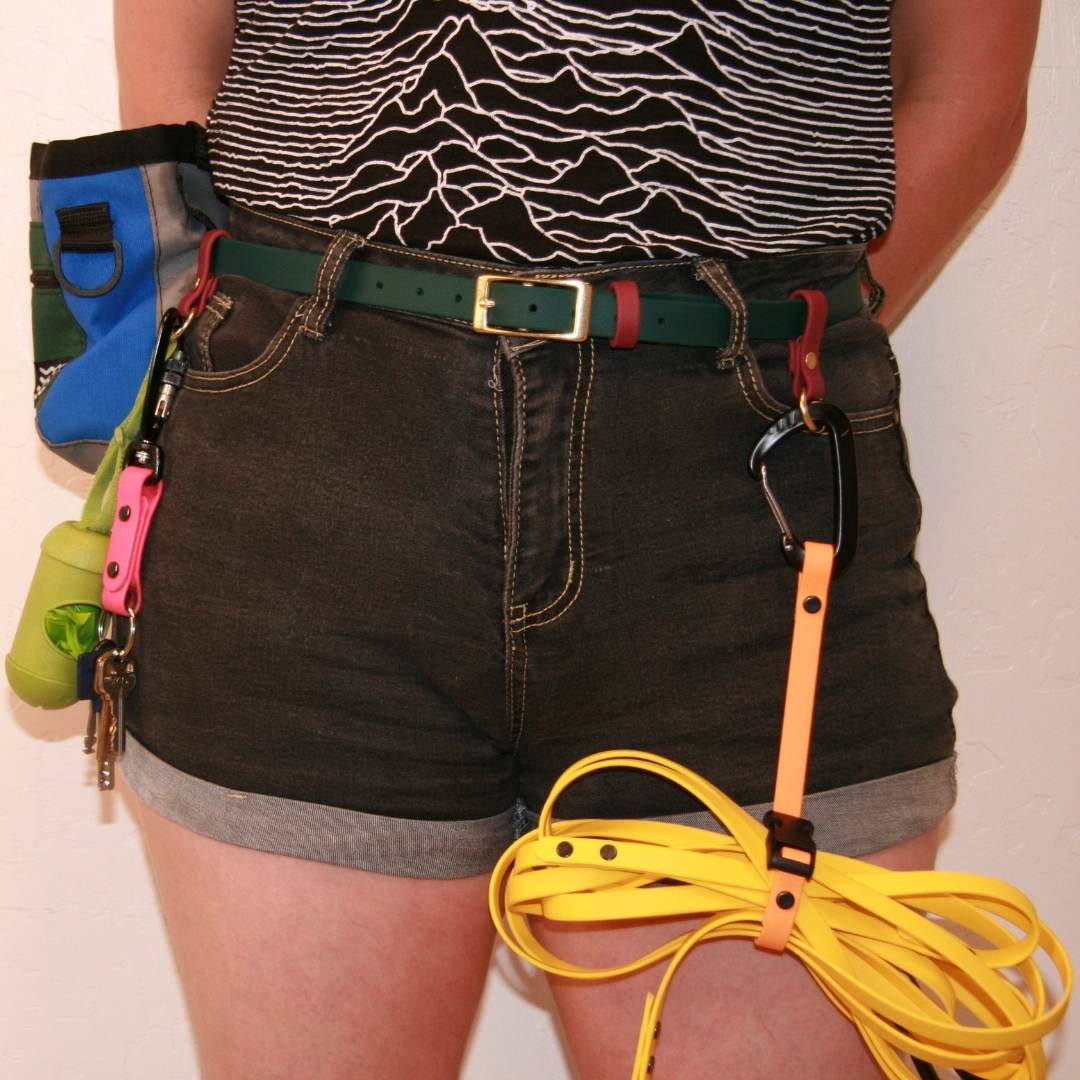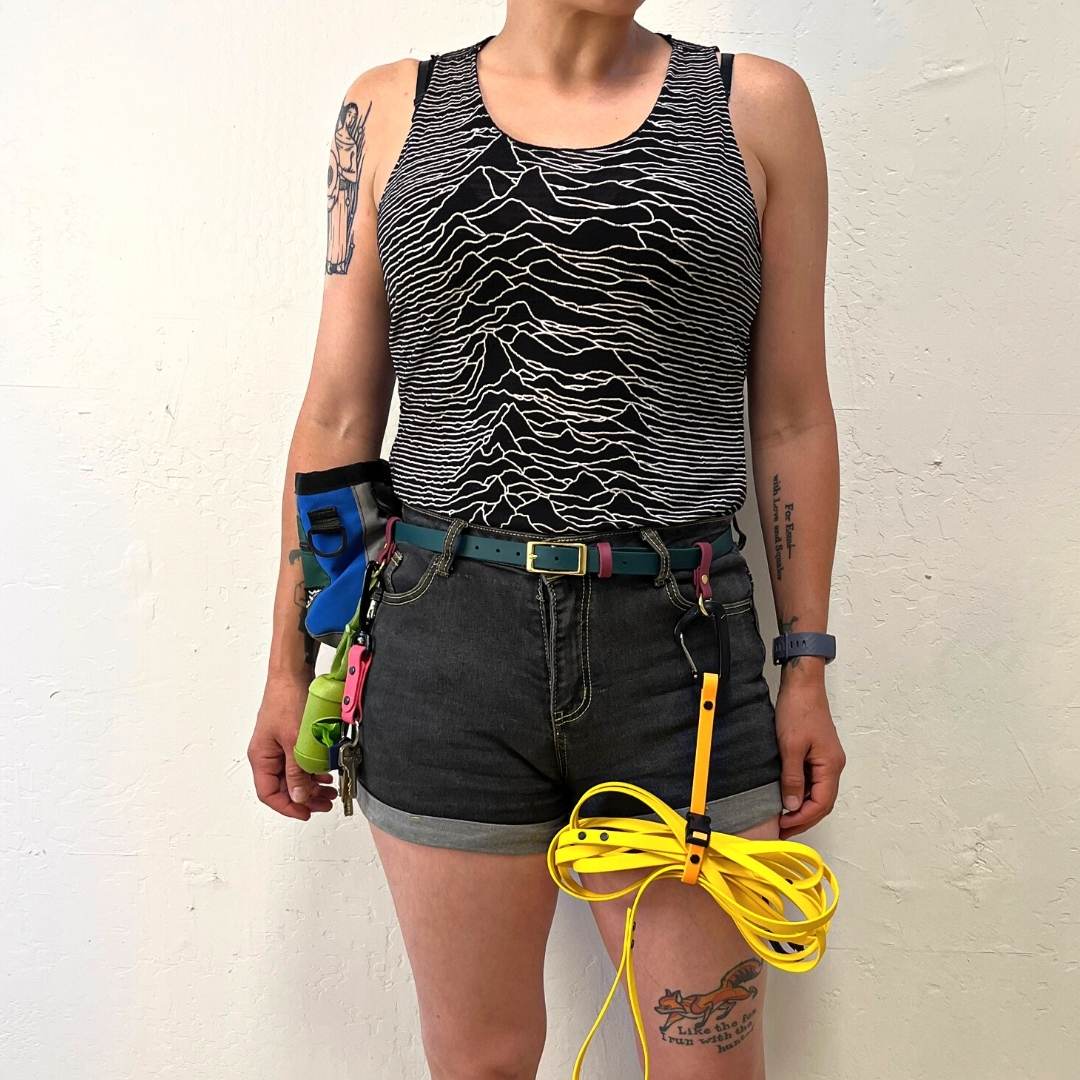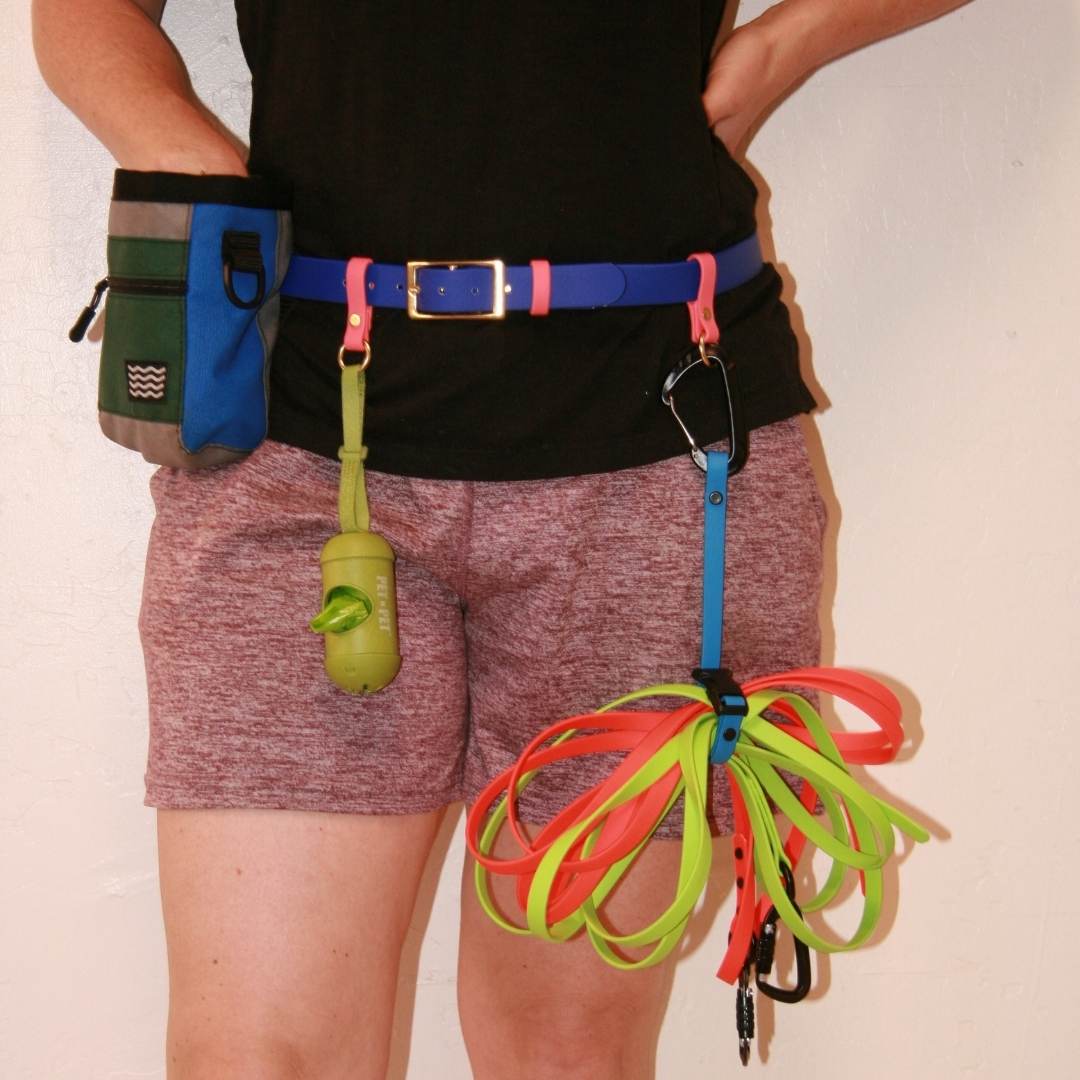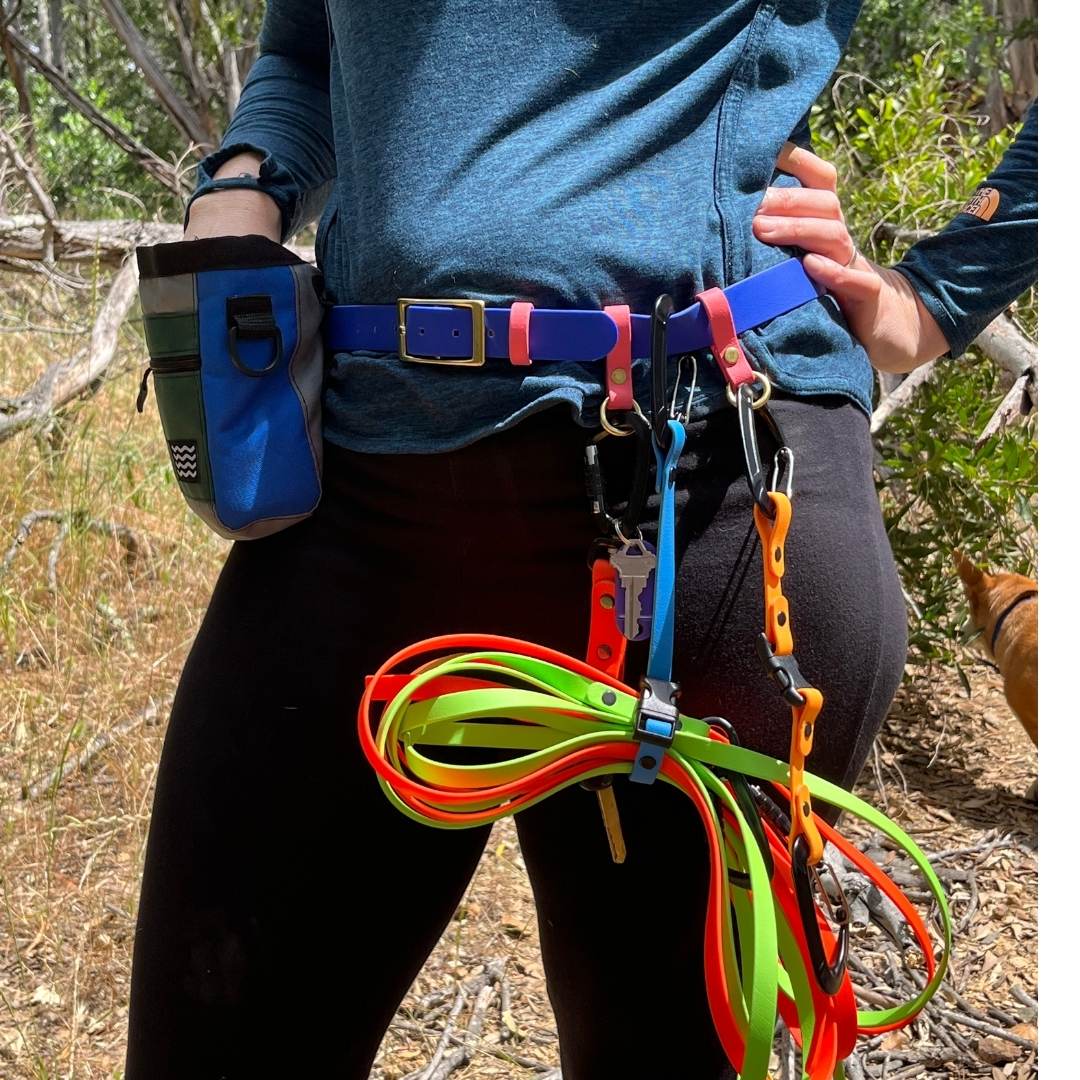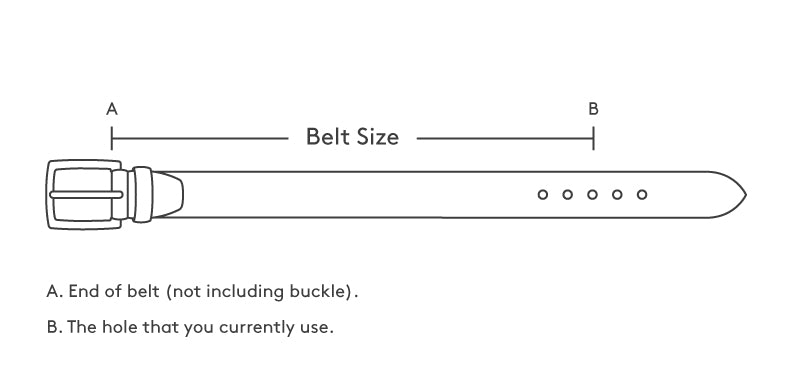 It's finally here - our BioThane Utility Belt! This beautiful, custom belt with a solid brass buckle and contrasting BioThane belt loop is sure to turn heads. Use it with no attachments as a stand alone belt, or add the optional, removable sliding O-Rings to make it more functional! You can use the sliding O-Rings to attach your Long Line Keeper, Leash to Waist Strap, Clicker Strap, Sport Keychain, poop bag holder, or anything else to make your walks a little easier. When you're ready to hit the town, take the O-Rings off and wear the belt as a fashion statement!
Our Utility Belt is available in 3/4" and 1" widths and in multiple sizes. See sizing notes below for determining your belt size. If you select sliding O Rings to go with your belt, they will be made in the same color as your belt loop. If you need to order additional O Rings at a later date, or if you'd like them in a different color, you can order them separately here.
IMPORTANT! Belt sizing: when sizing for a belt, we recommend that you select a belt size that is two inches larger than your waist size. For example, if you wear a size 34 pants, we recommend ordering a size 36 belt. You can also measure an existing belt from the sizing hole to the point where the strap meets the buckle. Our belts come with 8 sizing holes punched approximately .75" apart, and ideally you want your belt size to land in the middle, or on the smaller end, of the sizing range. If you have any questions about sizing, or if you need a custom belt size not listed on the size choices below, just email us and let us know!  

Our products are made from biothane, a vegan leather substitute manufactured in the USA that is lightweight, waterproof, odor proof, antimicrobial, and easy to clean. Your biothane gear will hold up over years of use and will get softer and more pliable over time.
While we strive to keep all of our colors and sizes in stock, it's possible that your selection may be out of stock or backordered. If that is the case, we will email you as soon as possible to ask if you would like an alternate color, or if you would like to wait for a restock. A restock typically takes 7-10 days, but can take longer in the case of a backorder.
Our products are guaranteed against defects in materials or workmanship. For more details, see our Return + Exchange Policy. Remember that regardless of what equipment you use, you are ultimately responsible for the safety of your dog. For more information and care instructions, please see our FAQs.