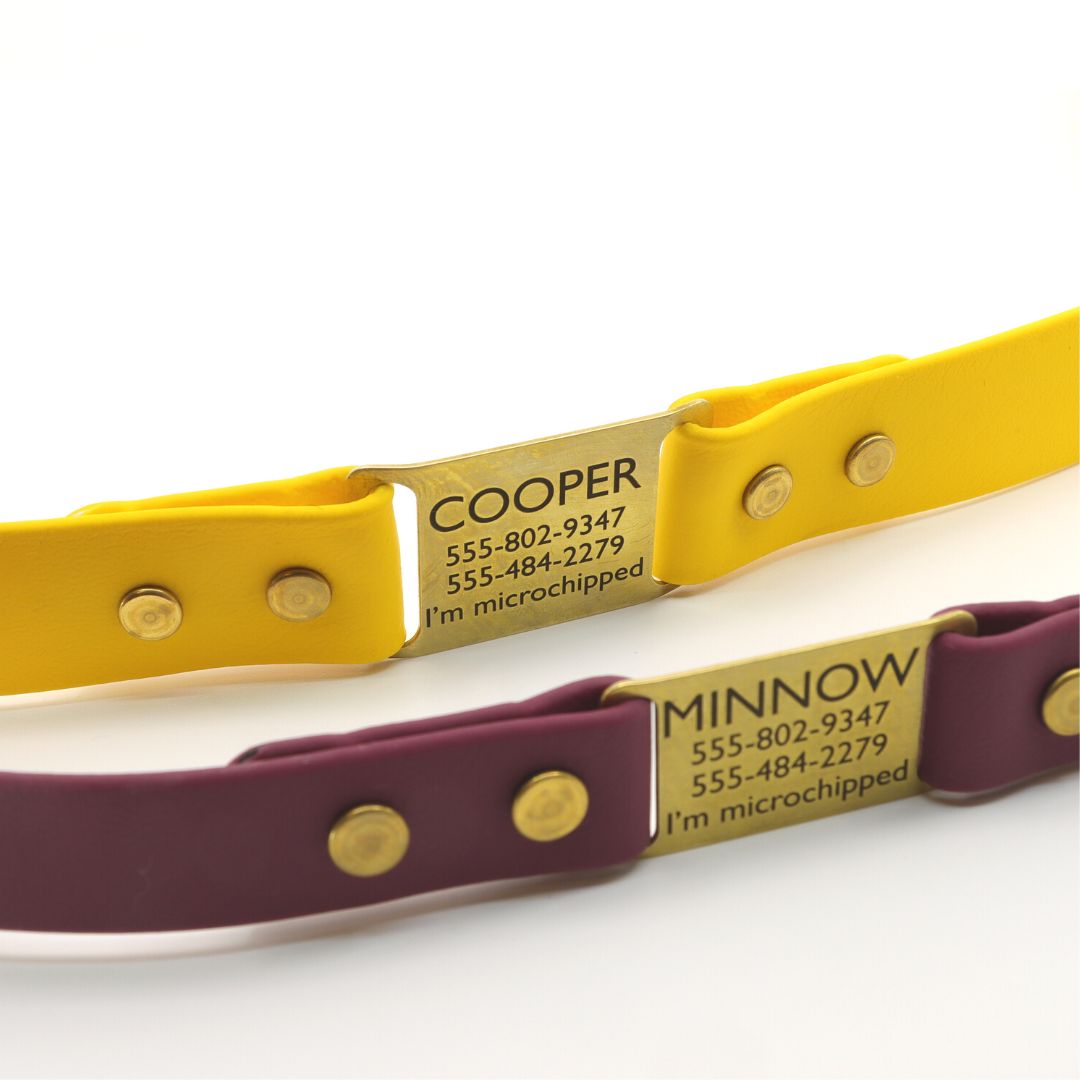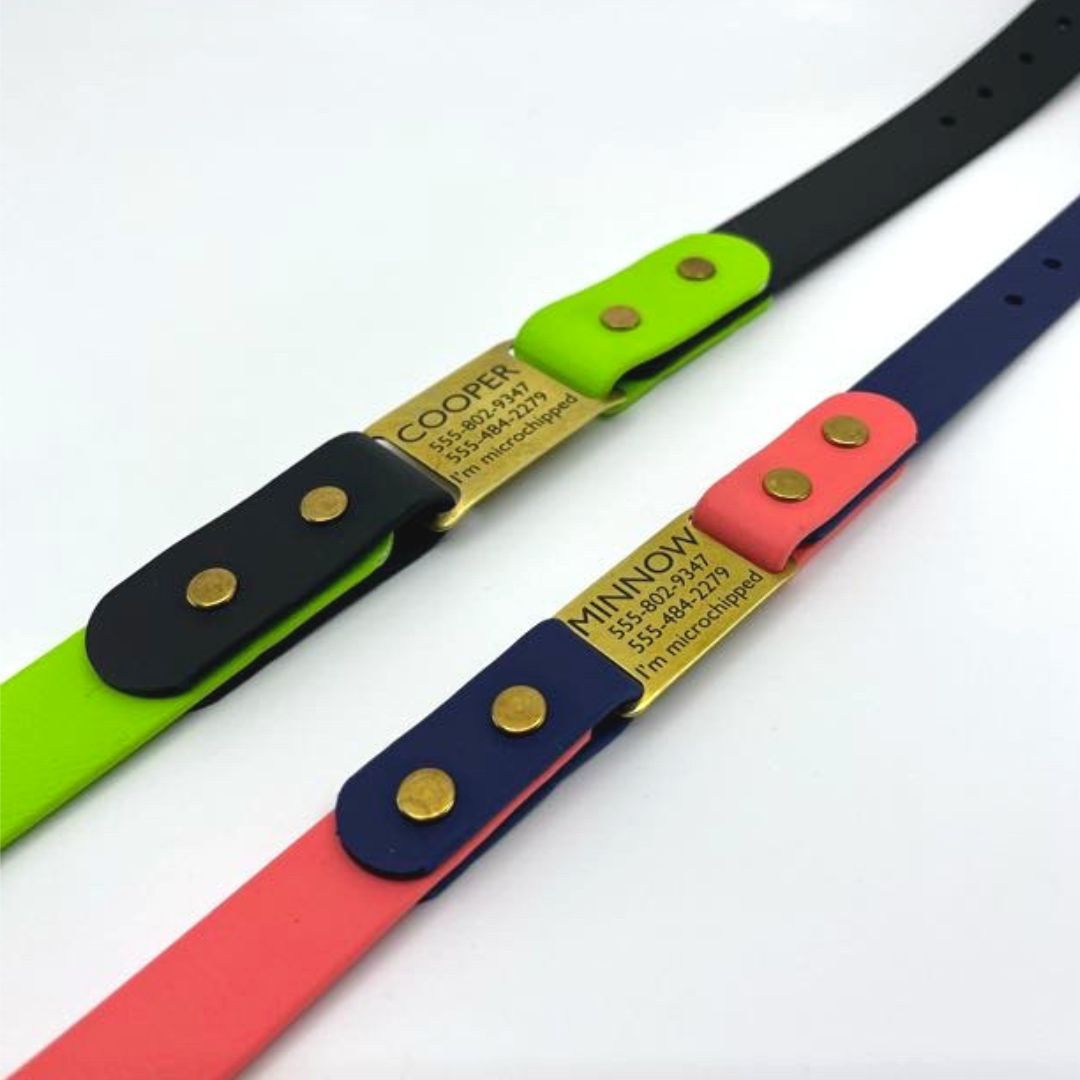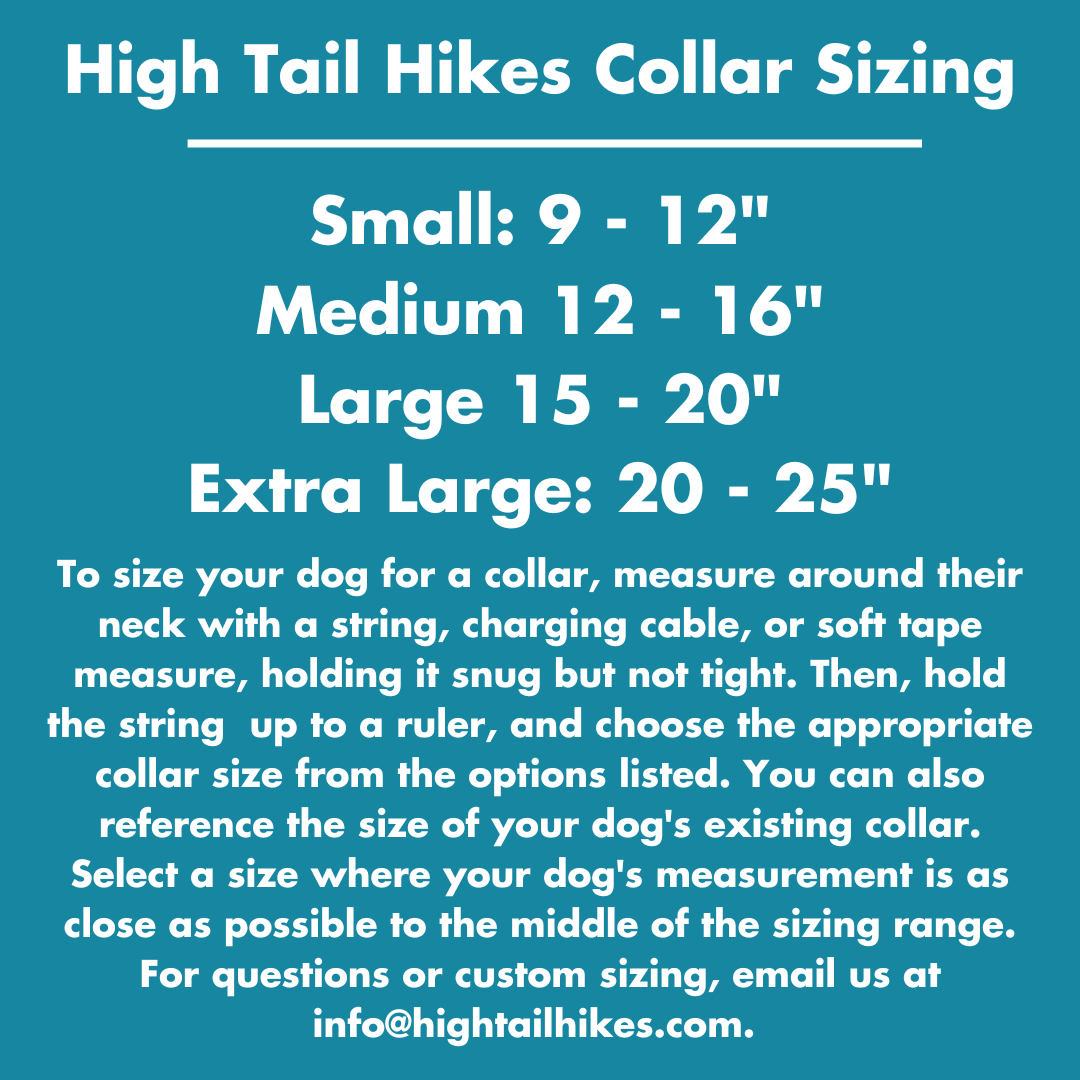 BioThane ID Tag Collar - Classic Brass
Our Classic Brass ID Tag Collar integrates a solid brass ID tag into the collar opposite the buckle. Tag includes long lasting laser engraving of up to 4 lines of text, with up to 18 characters per line. Tags are molded slightly to fit the curve of your dog's neck. Small collars have a single rivet on either side of the ID tag to allow room for adjustability. All other sizes have two rivets on either side of the ID tag. 
Available in either single color or Two Tone designs. To order, select collar size, then select your main color and, if desired, choose a second color under the "Make Mine Two Tone" option (additional charges apply). Then, choose your desired font and fill in your desired text in the text boxes. 
Make sure to review collar sizing chart before purchasing. Watch this video for tips on how to size your dog for a collar. Your dog's neck measurement should fall in the middle of the sizing range of the collar you order. Please triple check both your dog's collar size and the text you include for your dog's ID tag before placing an order. If you are in between sizes, need assistance with sizing, or need a custom size, please contact us and we'll be happy to help! Note: We will engrave the text on your tag exactly as shown in the text boxes you fill out. ID Tag Collars are not eligible for return for any reason unless we made a mistake when engraving your tag. Please note that "Baron" is an all caps font, lowercase letters not available in this font. 
Solid brass is rust proof but can develop a patina over time and with exposure to the elements. Make sure to rinse your collar and tag in fresh water after a trip to the beach. Wash your collar and tag with mild soap and water periodically, using a toothbrush or a sponge to clean around where the ID tag connects to the collar. If you would like to brighten your brass hardware, make a paste with lemon and baking soda, apply with a cloth, let sit for a few minutes, then rinse with warm water. 
Production lead time on ID tags and ID tag collars is currently 2 weeks. If you order one of these items along with other items in our shop, your entire order will ship together once your ID tags are ready. 
Our products are guaranteed against defects in materials or workmanship. For more details, see our Return + Exchange Policy. Please note that biothane is not chew proof and your dog should never be left unattended wearing a leash or long line. Remember that you are responsible for the safety of your dog, no matter what type of equipment you use. For more information and care instructions, please see our FAQs.
BioThane ID Tag Collar - Classic Brass
I absolutely love this collar!
I absolutely love this collar! My dog is active and we get out almost every day. The waterproof biothane means my dog doesn't constantly have a wet collar around his neck. I love it so much I just ordered some matching leashes too!
I wish I didn't like it as much as I do
I going to go broke! The collar fits great and looks absolutely beautiful on my pittie. I want one on every color combo so I might as well send my paychecks directly to High Tail Hikes
Rosa your pitie does look great! Thank you so much!
My favorite collar
I have these collars for all three of my dogs. They are the best. Colors are gorgeous, material is soft but durable, and most importantly muck-proof. My dogs wag their tails when I take these collars out because it means adventure time!! I will definitely be ordering more colors soon.
FAVORITE
I'm not exaggerating when I say my dog has about 15 collars. I'm also not exaggerating when I say that THIS one is my favorite. I have two and I'm about to place my order for a third. There is something about the way the biothane attaches to the gold name plate that makes me feel like the collar stretches less when pressure is applied to the leash. (Am I crazy? Am I imagining it? Maybe!) ALSO it's beautiful and I get tons of compliments on it. Now I just need more colors!
I don't think 15 is too many, I mean you need one of every color, right? Thank you Shauna! So glad you love the new ID Tag Collars!
We love our collar!
Beautiful biothane collar. My dog loves to dig and take naps in the grass. Needless to say she gets very dirty and her collars quickly get worn out. Grateful to have found these durable and great looking collars that support my dog's "outdoorsy lifestyle"!
Thank you Nancy! Glad we can live up to your expectations and her 'outdoorsy lifestyle'!