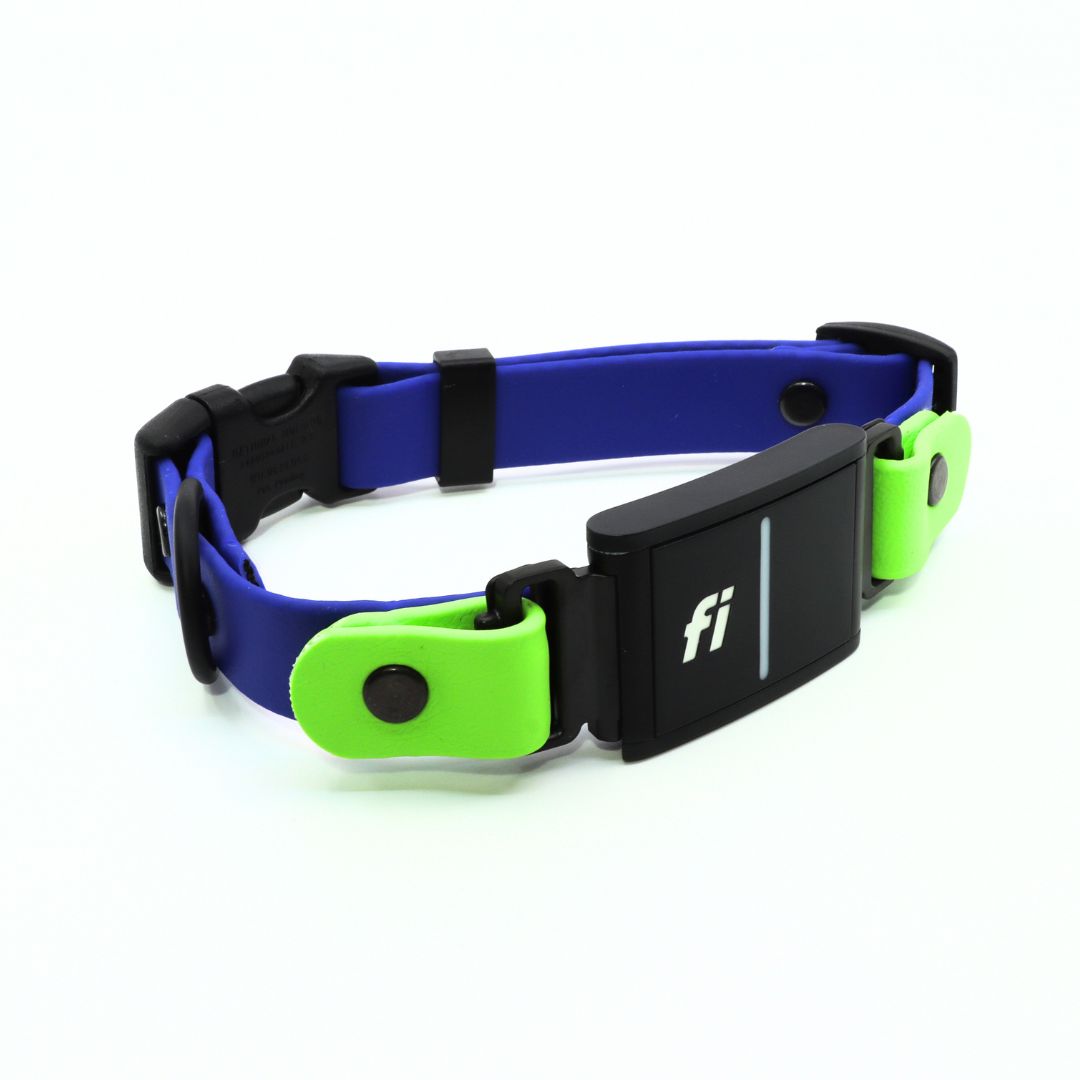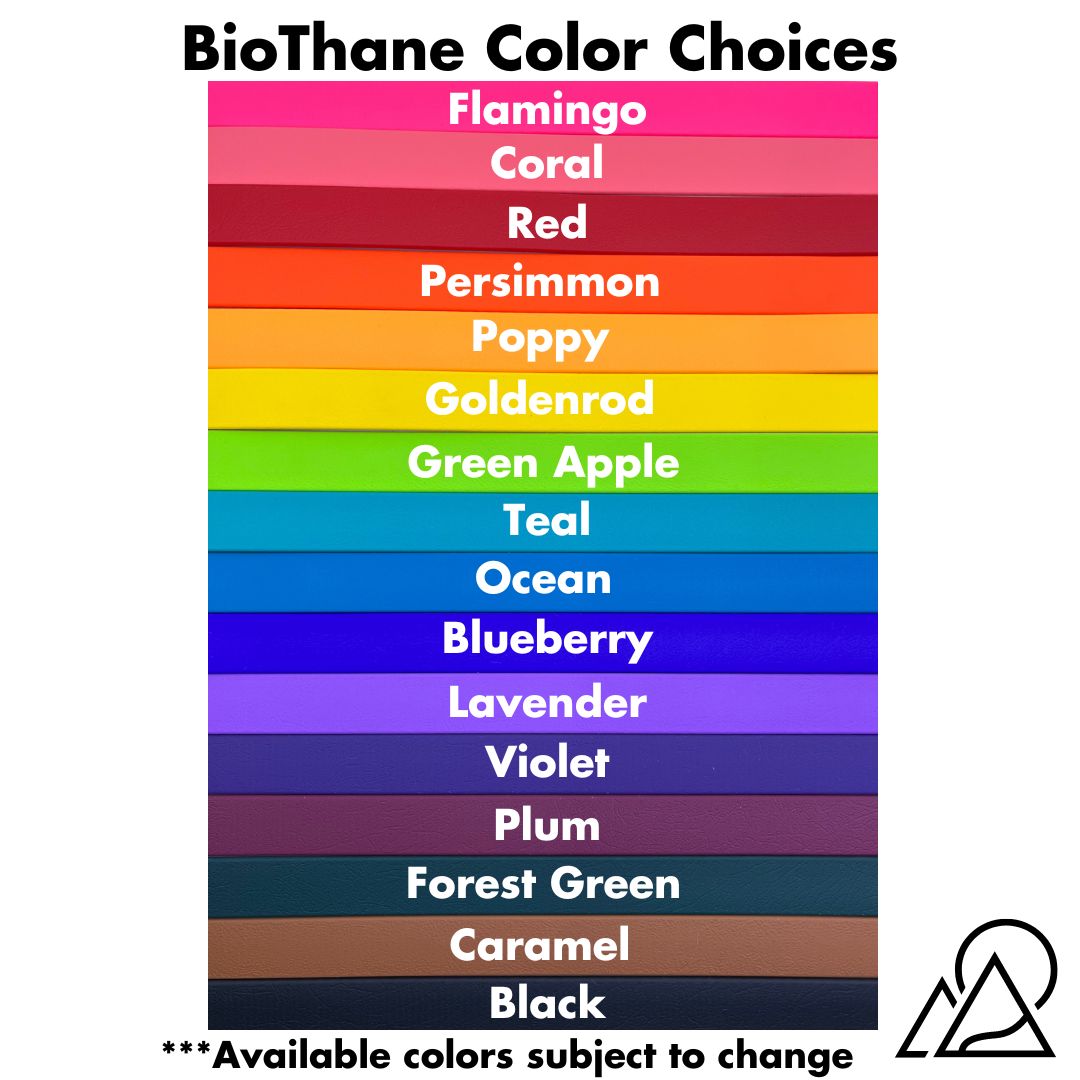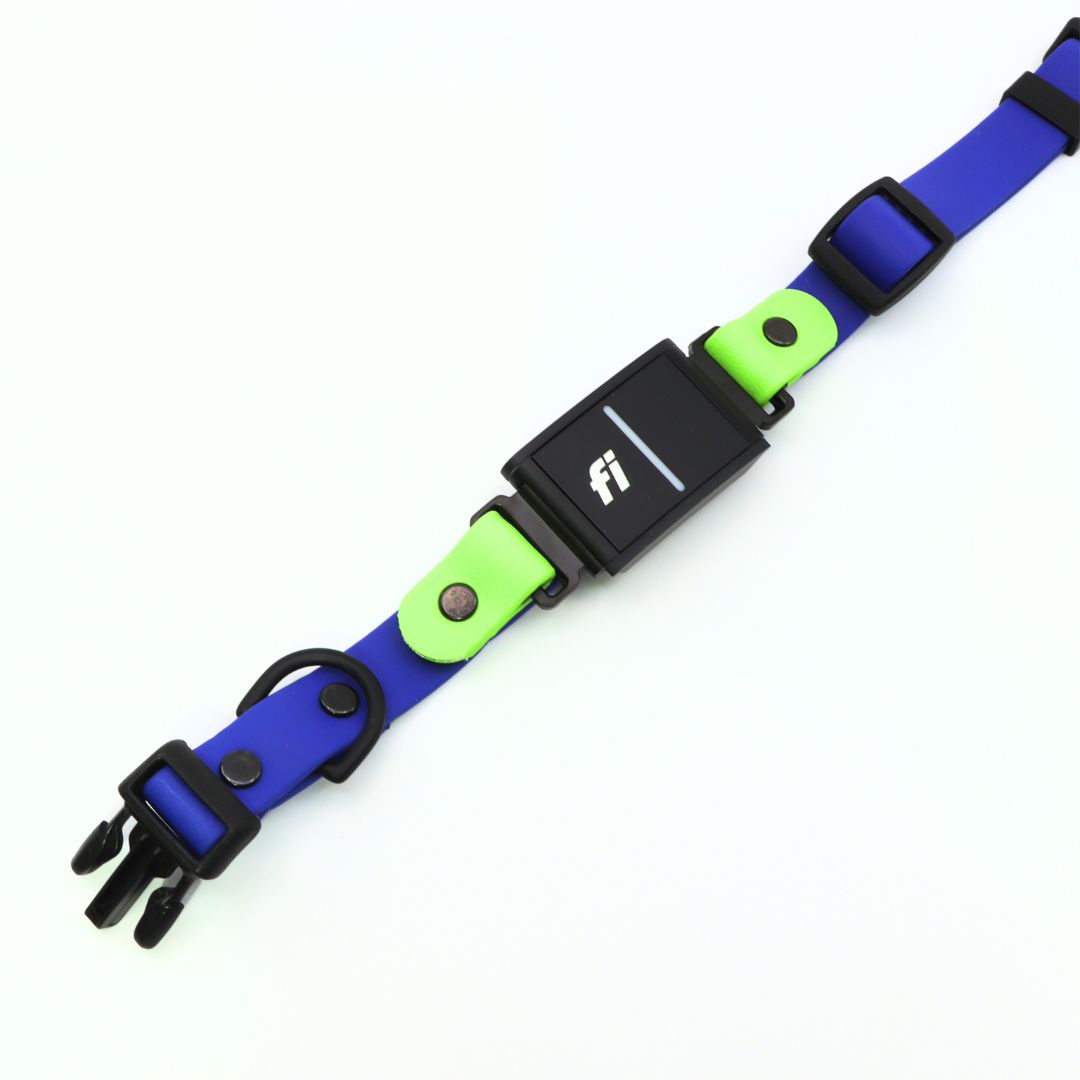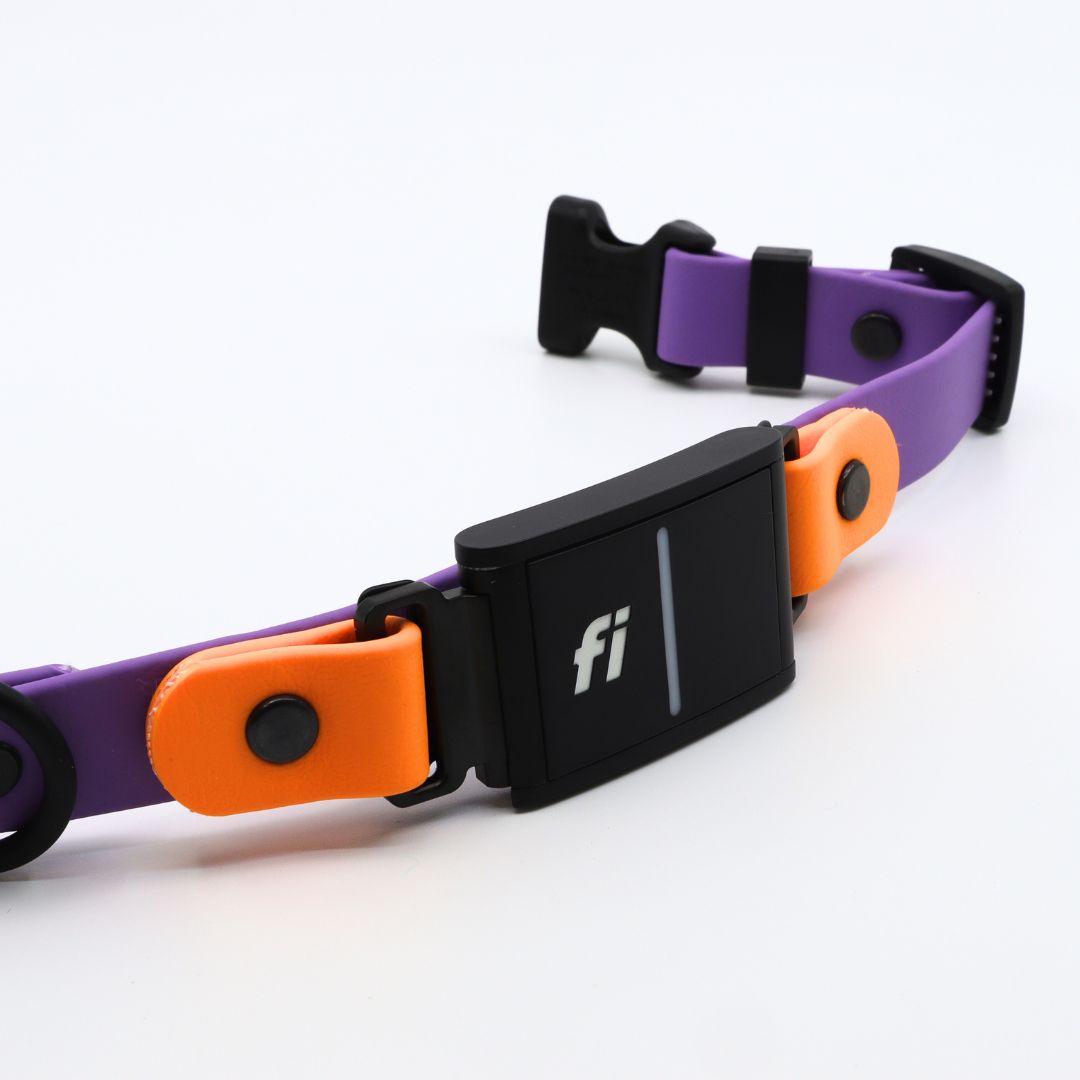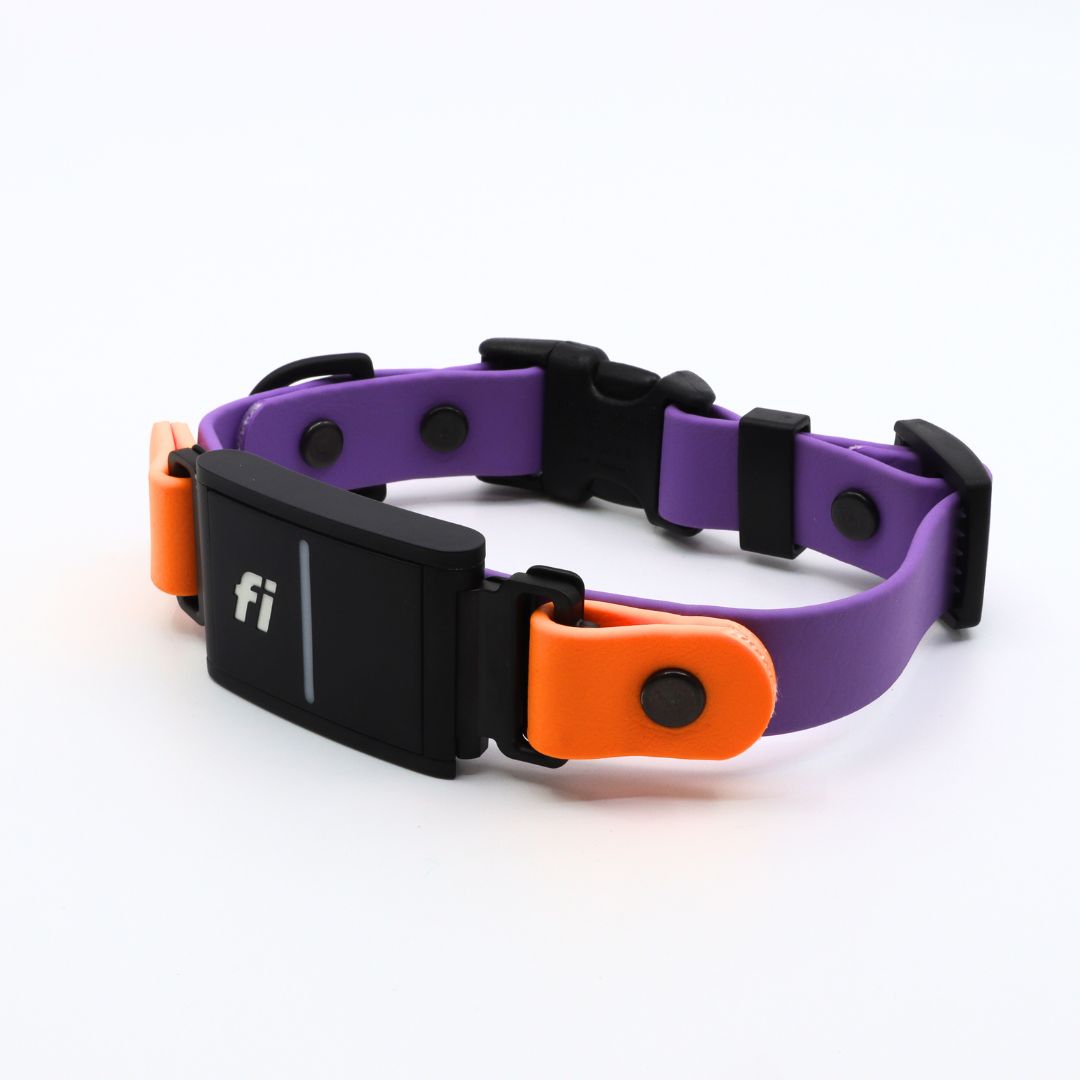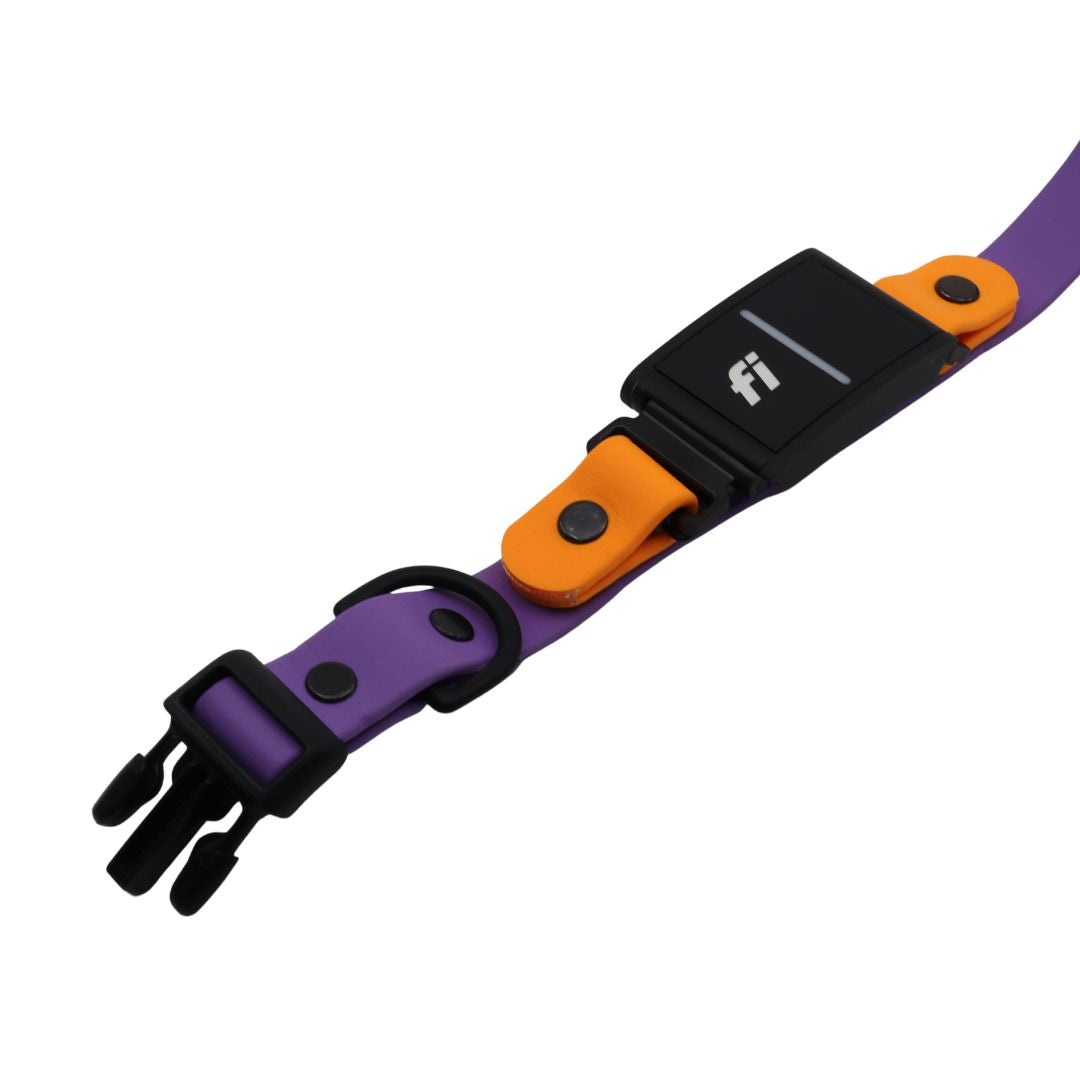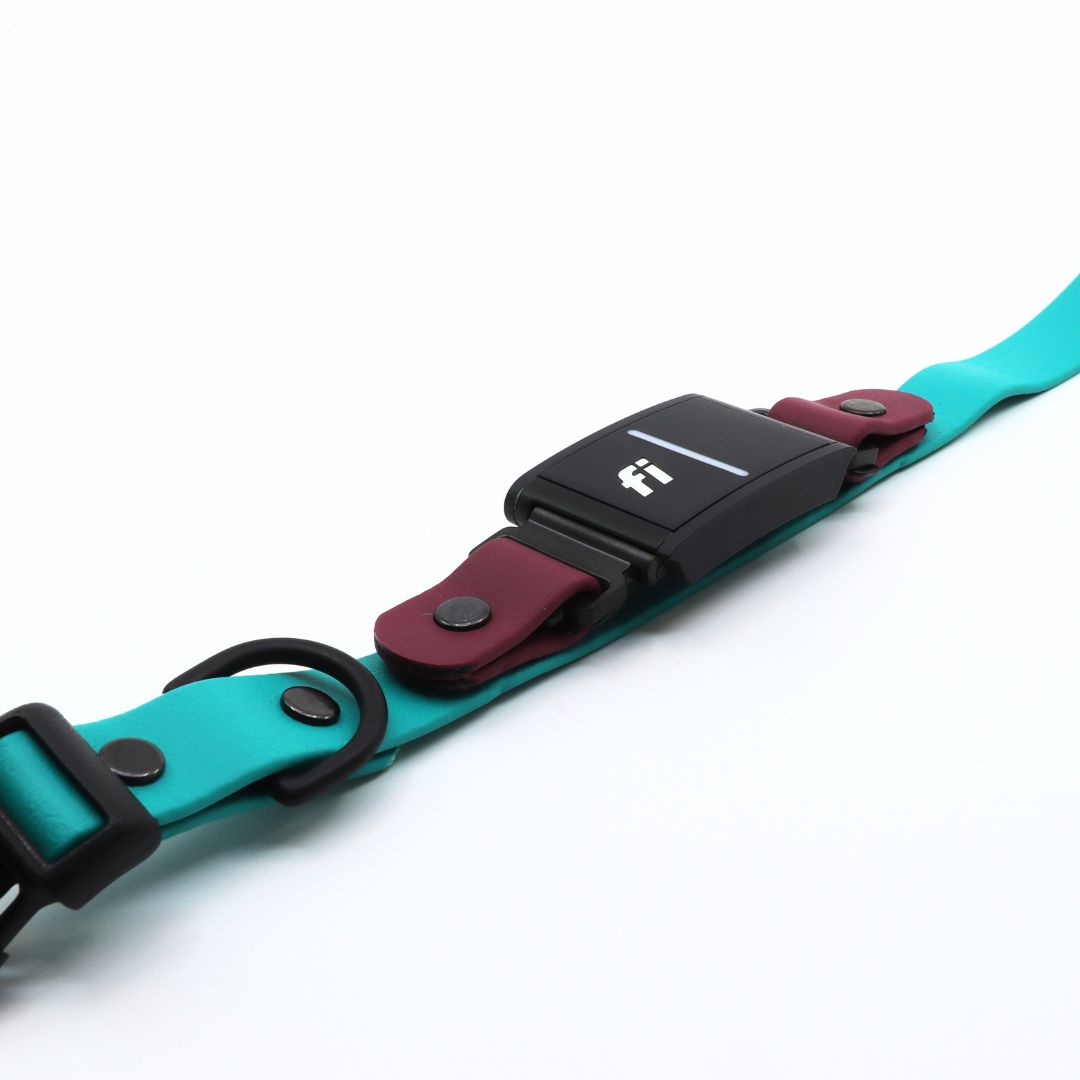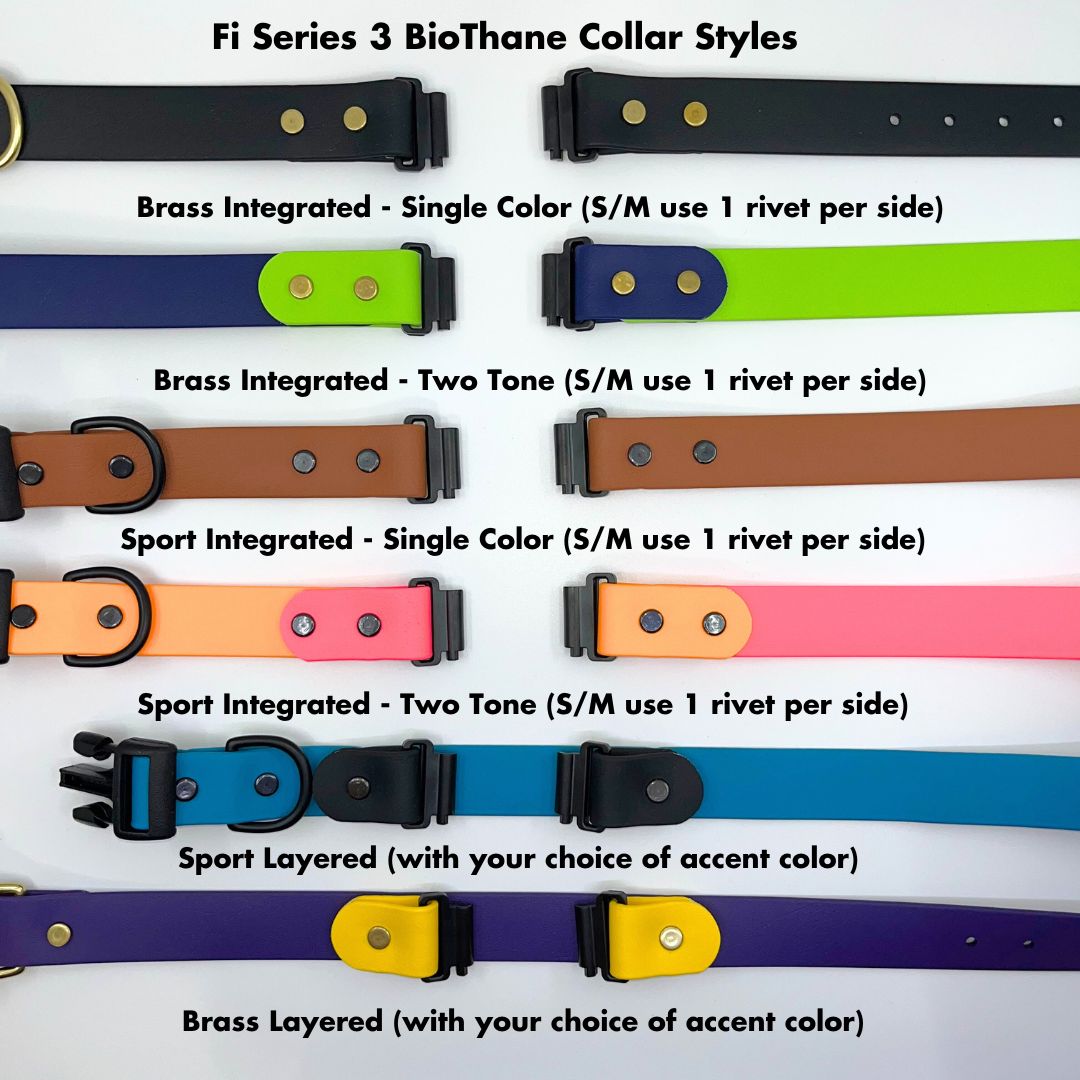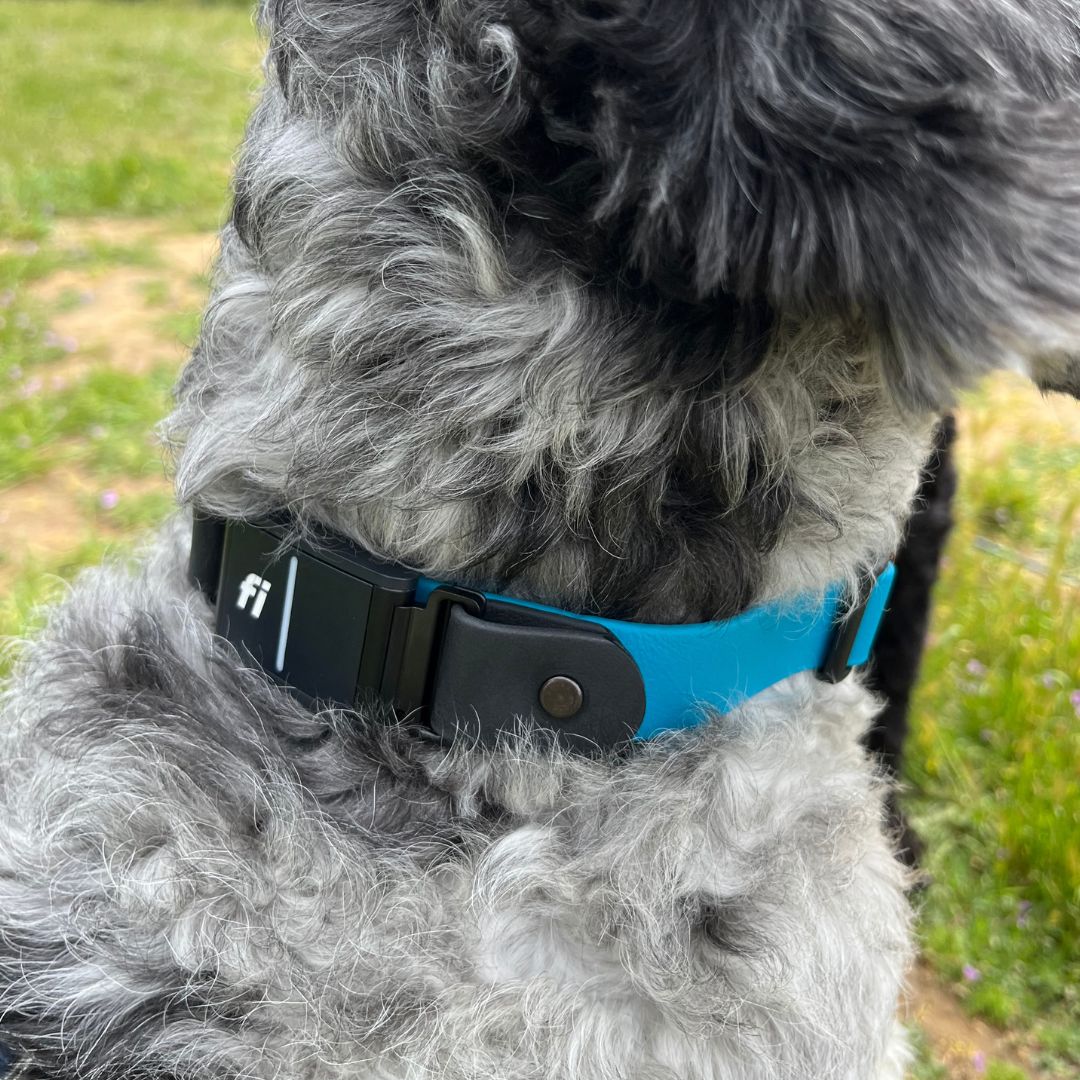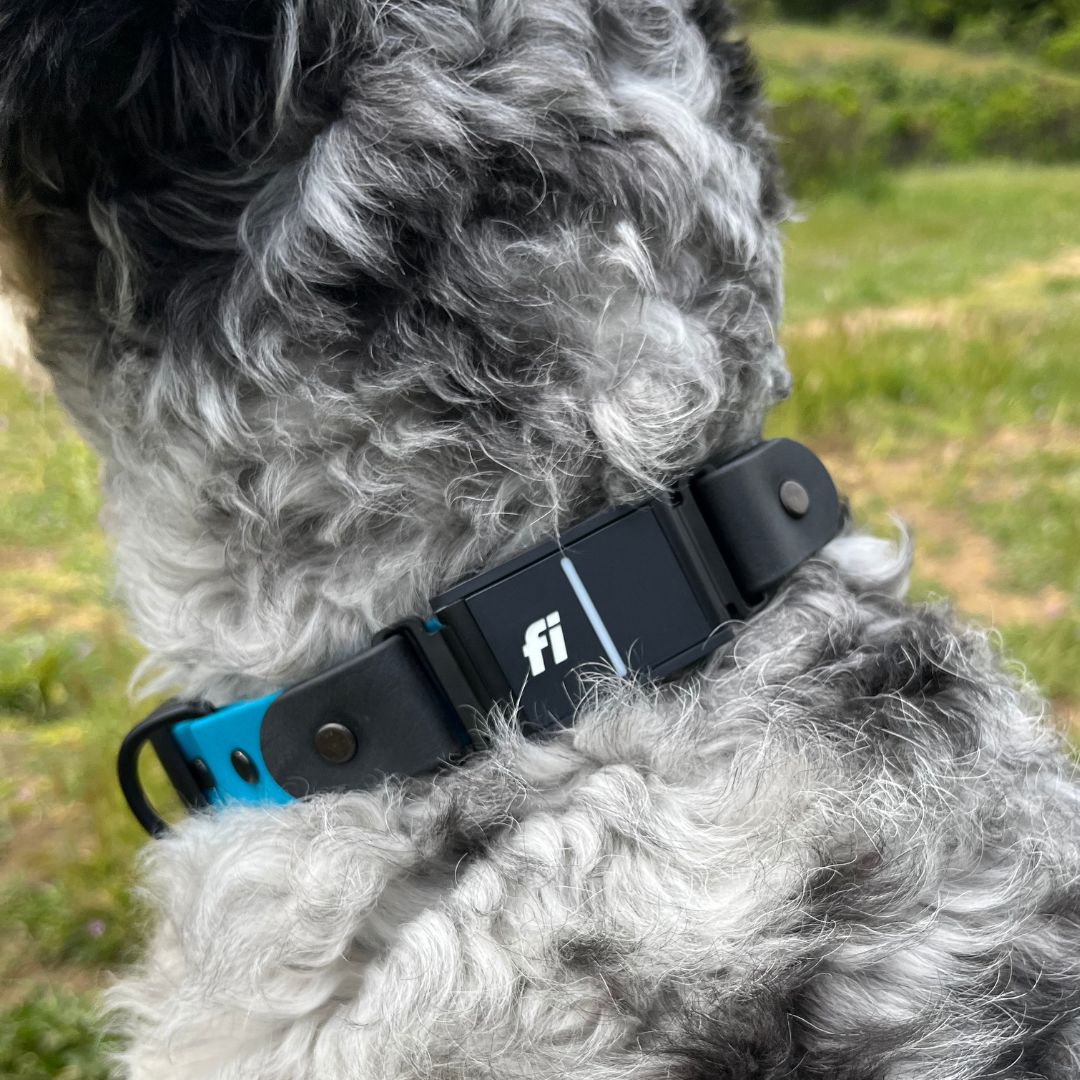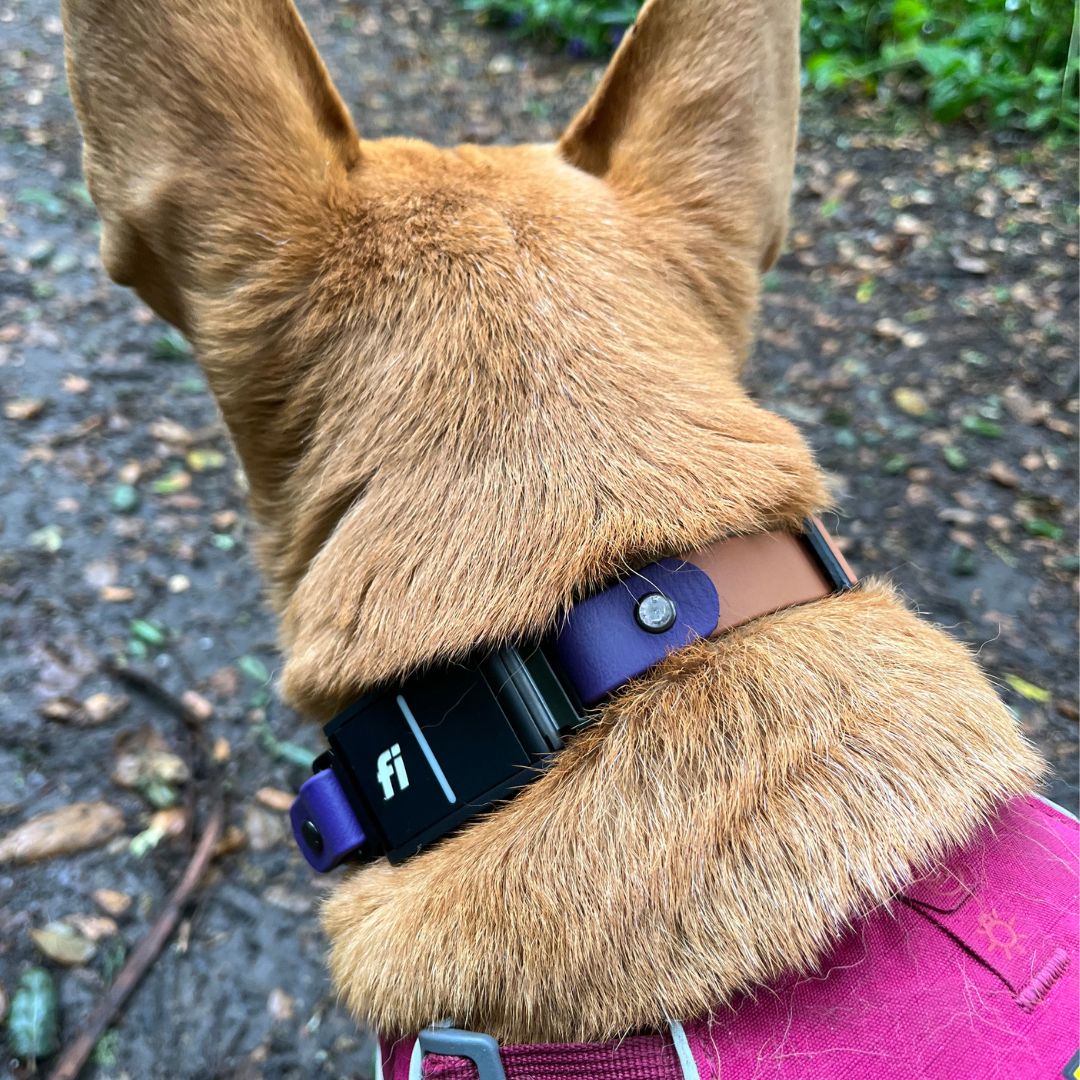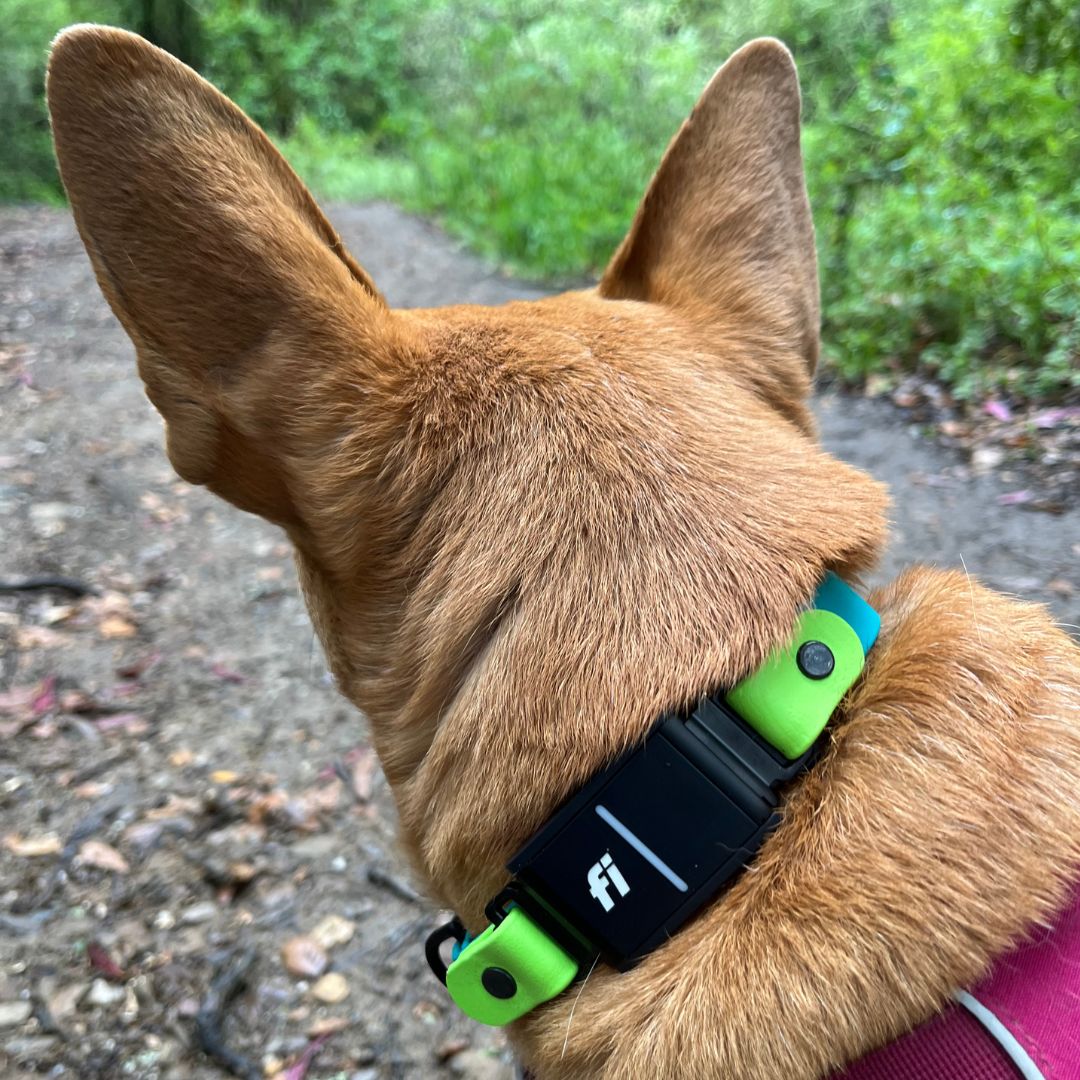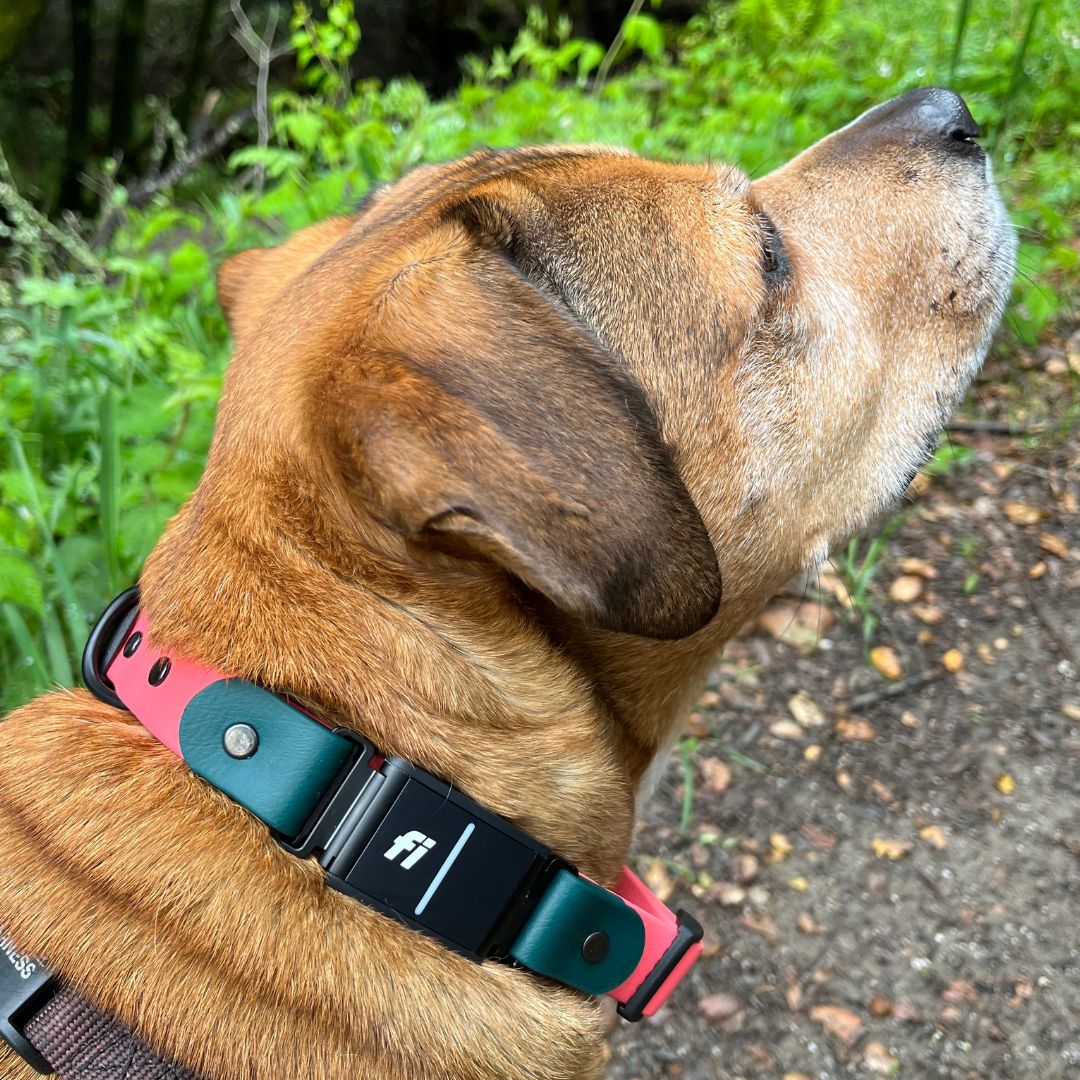 Fi Series 3 BioThane Collar - Sport Layered Design
Adventure with total peace of mind with our waterproof, stink proof, easy to clean BioThane collars, compatible with Fi's newest Series 3 tracking units (sold separately)! The Fi Series 3 unit features an extra long battery life in a sleek, minimalist design. Fi's proprietary technology uses GPS and satellite data to provide accurate real time data, as well as fitness and sleep data! 
Our Fi Series 3 Compatible BioThane Collars are available in Sport and Classic Brass styles, Layered or Integrated designs, ¾" or 1" widths, and in 16+ colors, allowing you to easily find a collar that matches your dog's personality and style! Please note: these collars are not compatible with the Series 1 or Series 2 trackers. Collars do not include the Fi unit. The unit must be purchased separately at https://tryfi.com.  Use code HIGHTAILHIKES20 for $20 off your Fi collar activation fee. 
Our Sport Layered Design allows the unit to sit on top of the collar band. You may want to choose this design if you would prefer to not have the unit sit directly on your dog's neck. All collar styles have been tested for strength and durability. All Series 3 units can be charged without removing the unit from the collar.
Choose your collar width, size, and preferred colors for the main band and end link accents from the color options shown. 
Please note that, due to the Fi Unit and hardware being built into the collar, Fi collar sizing is different from our standard collar sizing. At this time we are unable to make Fi Compatible Collars with Sport Hardware to fit neck sizes smaller than 13". 
Important: please size your dog properly for their collar before placing an order. There are two ways to size your dog for a collar:
Use one of your dog's existing collars to determine their measurement. Lay the collar down flat on a tape measure or cutting mat and measure the distance from where the two points of the collar meet when the collar is being worn. 

Use a length of string or a soft cable (like a phone charging cable) to measure around your dog's neck where a collar would naturally sit.

Allow enough space for 2 fingers to fit underneath the collar to ensure that the collar will not be too tight.

Transfer the string or cable to a cutting mat or tape measure and check the measurement. 

Measure several times to ensure accuracy. 
Please also watch this video where we review how to size your dog for a collar. 
Your dog's neck measurement should ideally fit in the middle of the sizing range of the collar that you choose. If you are between sizes, or not sure of what size to choose, please contact us for assistance. We are always happy to help, or to make your collar in a custom size by request. 
Because these collars integrate third party hardware, and because of the degree of customization involved,  we cannot offer returns or exchanges on Fi Compatible Collars for any reason unless we made a mistake on your collar.
All of our BioThane Collars are waterproof, stink proof and easy to clean! See our blog post about cleaning your BioThane gear. We recommend rinsing your gear with fresh water and towel drying after a hike or a trip to the beach. This will help to remove salt, sand, and other grit to help your gear last longer. 
Although our products are guaranteed for life, you are responsible for ensuring the safety of your dog. Please inspect your gear and hardware regularly. Never leave your dog unattended in a crate while wearing a collar. 
Fi Series 3 BioThane Collar - Sport Layered Design
Mostly love it
I got a two tone Fi compatible collar (layered). Love the colors, and it seems to be a very durable collar. Only two small things that I don't love, it doesn't fit on the Fi series 3 charge base unless I disconnect one side of the Fi tracker. And the little hard plastic slider doesn't stay in place so the two layers of the collar don't stay tightly together but those are minor things It's still a wonderful collar and I'd buy more
Great collar!!
Great collar and company!!