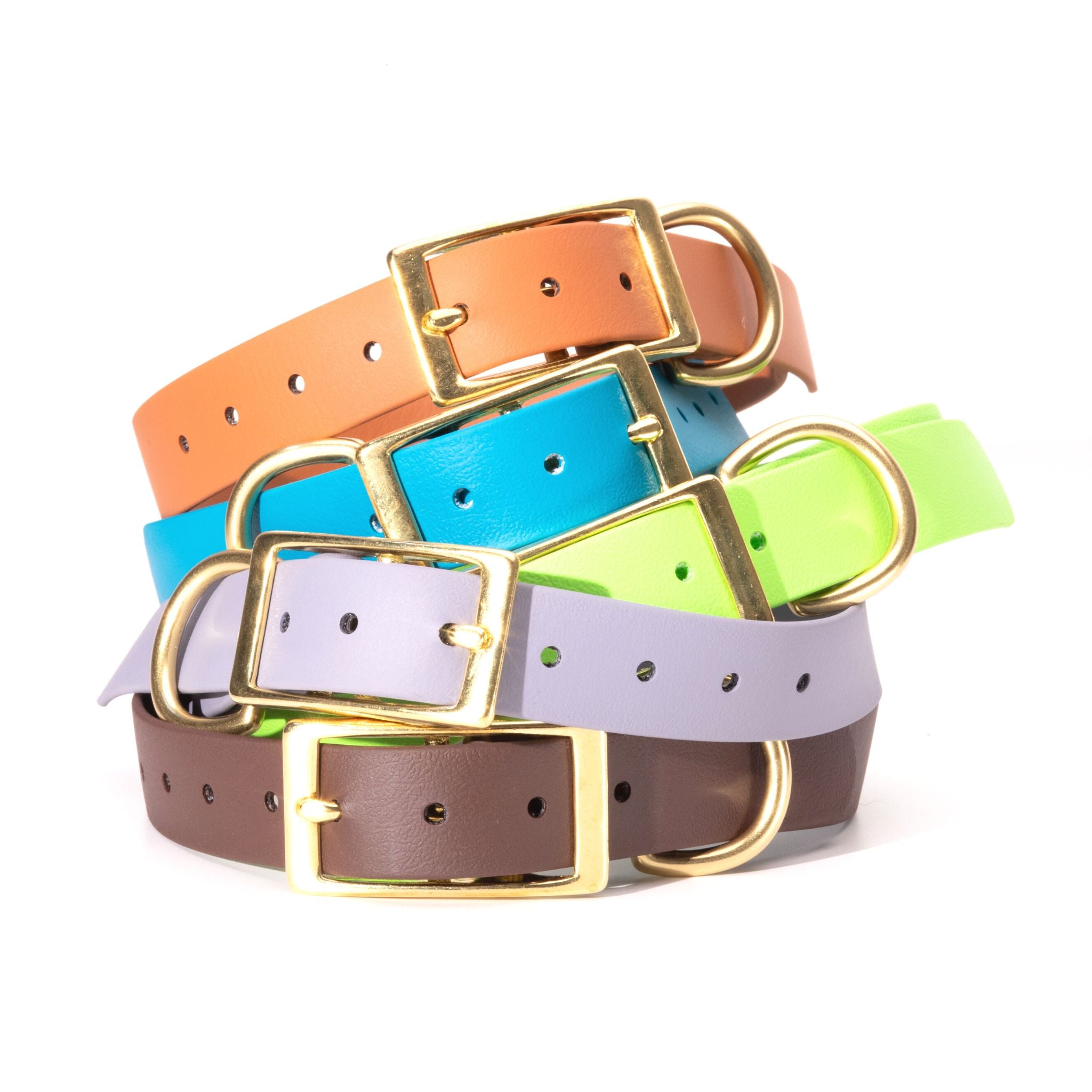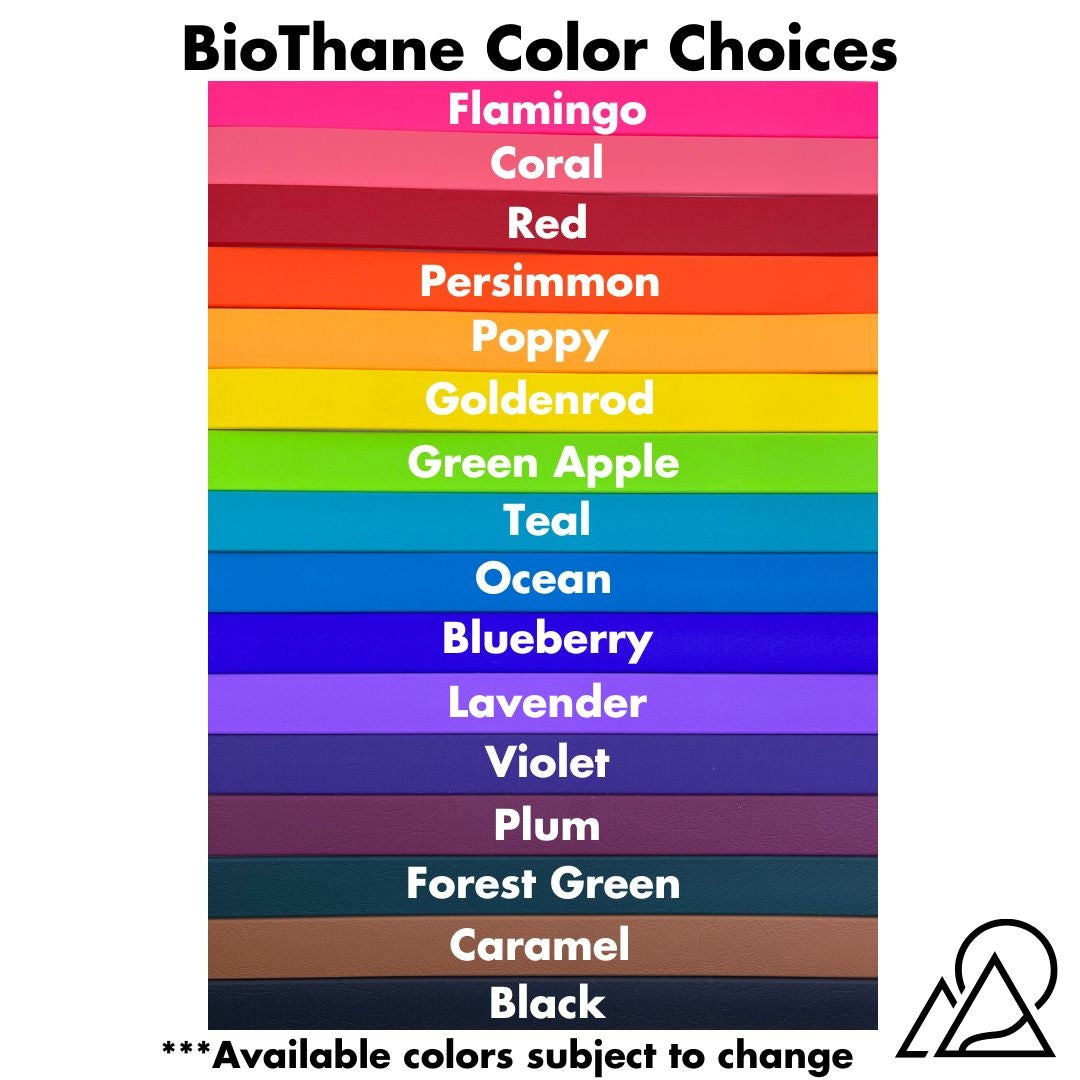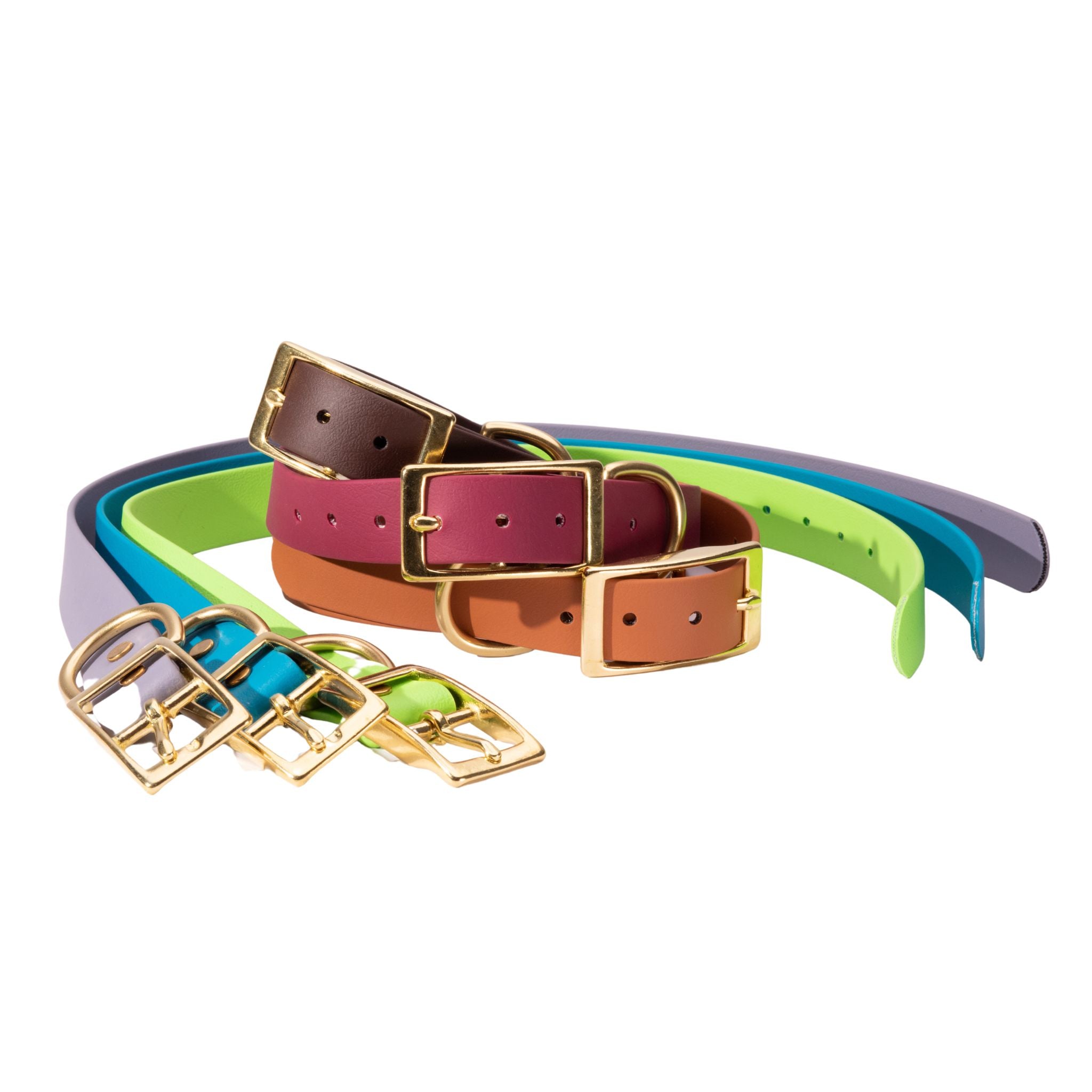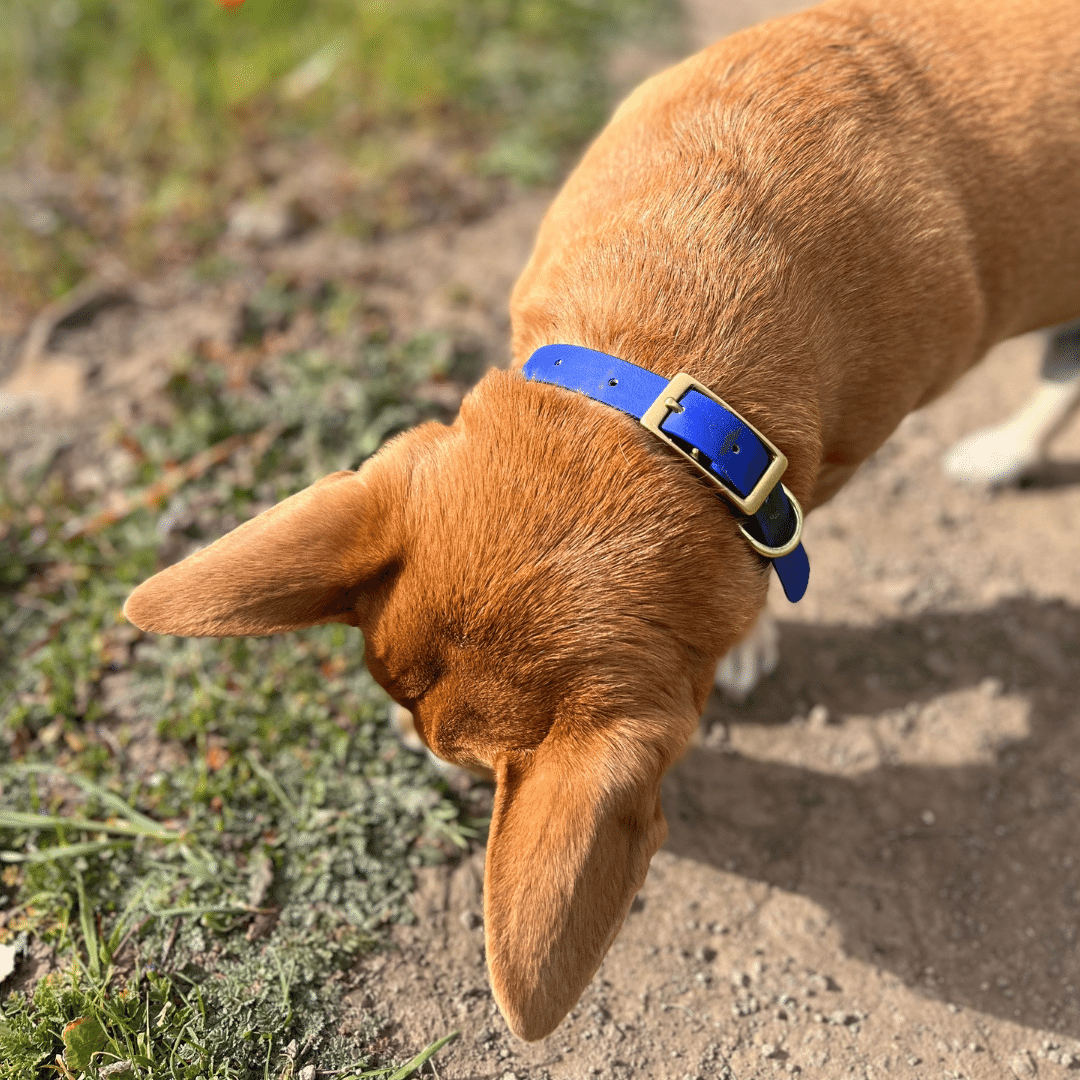 BioThane Collar - Classic Brass
Our Classic Brass Collar is beautiful, durable, and timeless. Built with the same waterproof, odor proof, antimicrobial, soft, flexible, easy to clean material as our leashes and long lines, with a high quality, solid brass double bar buckle and D-Ring that will resist rust and wear over years of use. The Classic Brass Collar pairs beautifully with our Brass Leashes and Long Lines.

Small and Medium Classic Brass Collars are 3/4" wide, while Large and Extra Large are 1" wide. Our Brass Collars are built with seven (S/M) or eight (L/XL) adjustment holes placed 3/4" apart. We offer an optional BioThane "Keeper Strap" in a color of your choice  
There are two easy ways to size your dog for a collar. First, use one of their existing collars that fits well, and simply measure the length from one connection point to the other. Alternatively, you can measure around your dog's neck, where a collar would go, with a string, soft tape measure, or a phone charging cable. Make sure the string is snug but not tight. Using that measurement, choose the appropriate collar for your dog's neck size from the options below. Please measure your dog's neck carefully before placing an order for a collar. It's best to size your collar to where your dog's neck measurement fits in the middle of the adjustment range, to account for growth or physical changes over time. We're always happy to help with sizing or to make your collar in a custom length - just contact us! 

Classic Brass Collar Sizing: 
Small: 9 - 12"
Medium 12 - 16"
Large 15 - 20"
Extra Large: 20 - 25"
While we guarantee our products for life, it is your responsibility to ensure the safety of your dog. Please check over your collar and hardware periodically. Your dog should not wear a collar when left unattended in a crate. 
BioThane Collar - Classic Brass
Sleek and easy to use
This is my dachshund's first real collar! We bought it for a beach weekend so his harness wouldn't get all sandy. The waterproof nature of this collar, the fun colors, and easy buckle made it a quick winner!
Love love love
This is my fourth purchase from HTH. I got the snap collar before and after my dog tore it in half I decided to try this one. I love it even more. Easy to use, awesome colors, easy to clean.
Mae we are thankful that you are a repeat client, we appreciate you!
Fast Delivery, Strong & Reliable!!
I ordered a coral classic brass collar for our bulldog, Ruby just a few weeks ago. We absolutely love the color and quality of the collar. It's strong, reliable and gorgeous for her first "adult" collar. We also bought a matching 10ft leash. Both have really improved our walks :)
So glad to hear you and Ruby are enjoying your walks even more! Thank you LIndsey!
Great Products
Excellent quality and good materials. Love the level of customization available with all their products. Very satisfied with our purchase.
Thank you Nic! We love hearing how satisfied you are!
Beautiful and sturdy
I love this collar. It's both beautiful and rugged. It's easy to clean after a long day at the beach or in the mud.