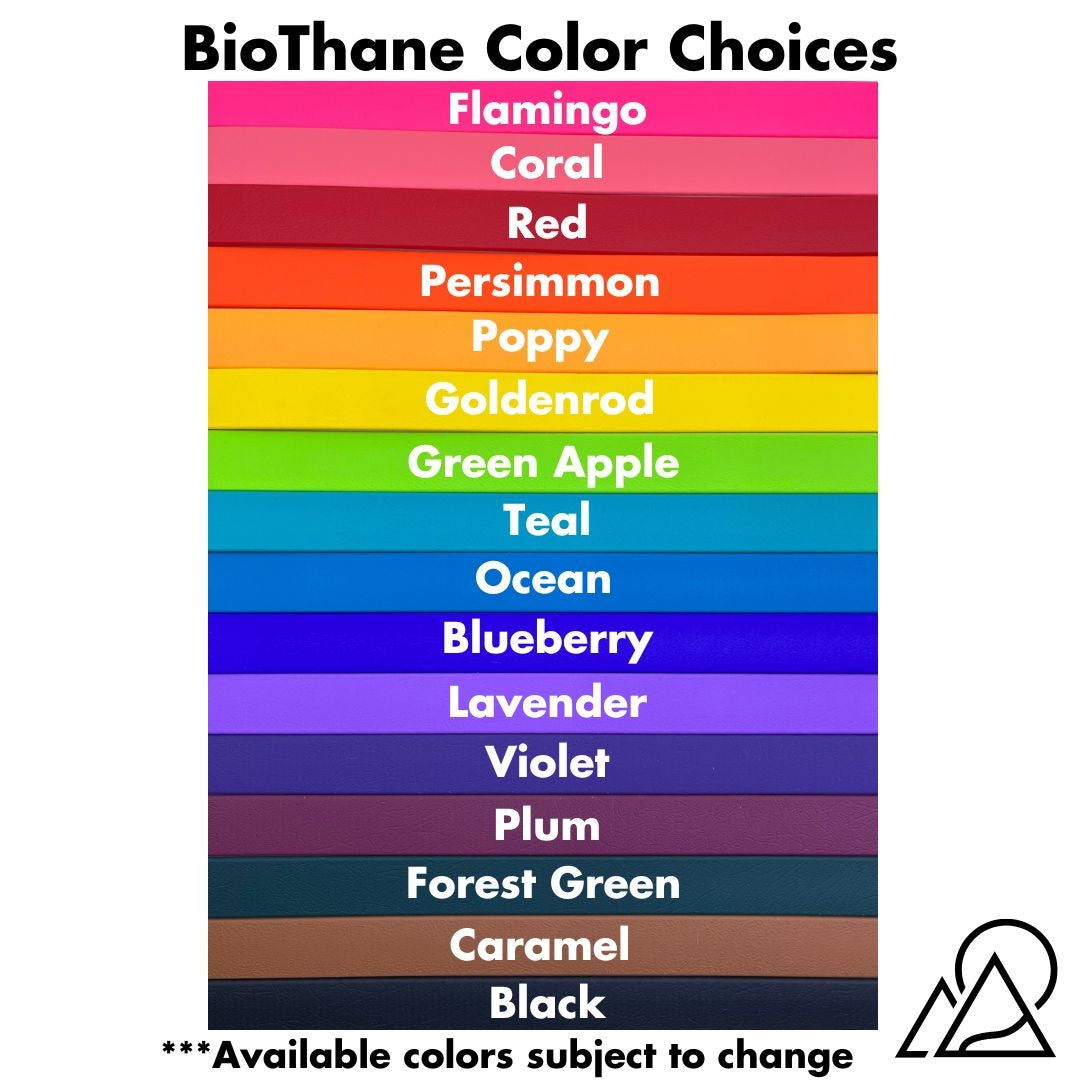 BioThane Safety Strap - Sport (Autolocking Carabiner)
Our Sport Safety Strap is made from our Small (3/8" width) biothane and our anodized aluminum autolocking carabiners. Three length options are available - 10", 12", and 14", measured from the end of one carabiner to the end of the other. A Safety Strap is intended to be used as a secondary back up point of attachment in case of equipment failure. A Safety Strap can connect collar to harness, or leash to collar if the leash is clipped to your dog's harness. To use the latter option, make sure the safety strap at the leash end is attached to the fixed eye opening at the bottom of your leash snap. View our Safety Strap demo here. 
To select a size, measure either from your dog's collar D Ring to harness clip; or from collar D Ring to the eye opening of your dog's leash snap (the base of the snap where the leash feeds through; below the swivel) while it is attached to the harness (depending on intended use). Allow for several inches of slack to allow your dog to move freely while the strap is in use. If in doubt, size up to allow for movement. If you would like a Safety Strap in a custom size not offered here, please contact us. 
Please note that while a safety strap adds a layer of security, it is not a guarantee. It is your responsibility to ensure the safety of your dog at all times. 
BioThane Safety Strap - Sport (Autolocking Carabiner)
Love everything from High Tail Hikes!
We love the traffic handle we got for our Doberman! The yellow looks great and it gives quick easy access in case we need to pull him back from traffic or another dog/person. We also like the peace of mind of having him in the car without a leash attached because we know we can use the traffic handle in an emergency if we needed to get him out of the car quickly.
Jessica, we appreciate your love of High Tail Hikes so much! Cheers to many adventures!
Peace of Mind
Recently when I was walking my lovely but reactive dog the metal clasp on her leash (not from High Tail) snapped. Thankfully, my dog turned right around when called and was only loose for a matter of seconds (I honestly am not sure she even knew she was free before I had her again). My first thought was I am ordering a safety handle from High Tail when I get home. I have used this safety strap ever since as back up and it has brought me such peace of mind. Hopefully we will never need it, but I am glad it's there if needed. The carabiners took a minute to get used to, but I like them now.