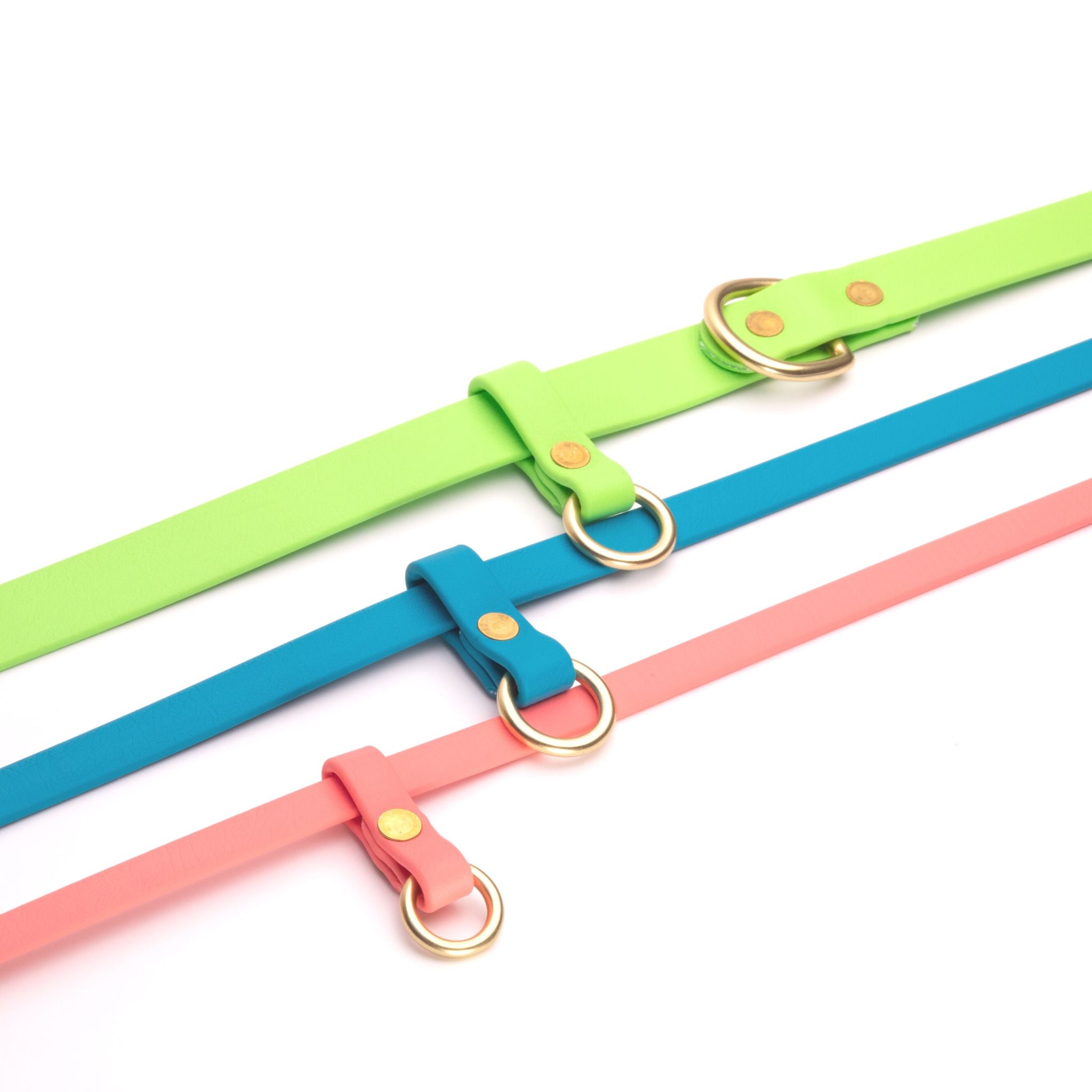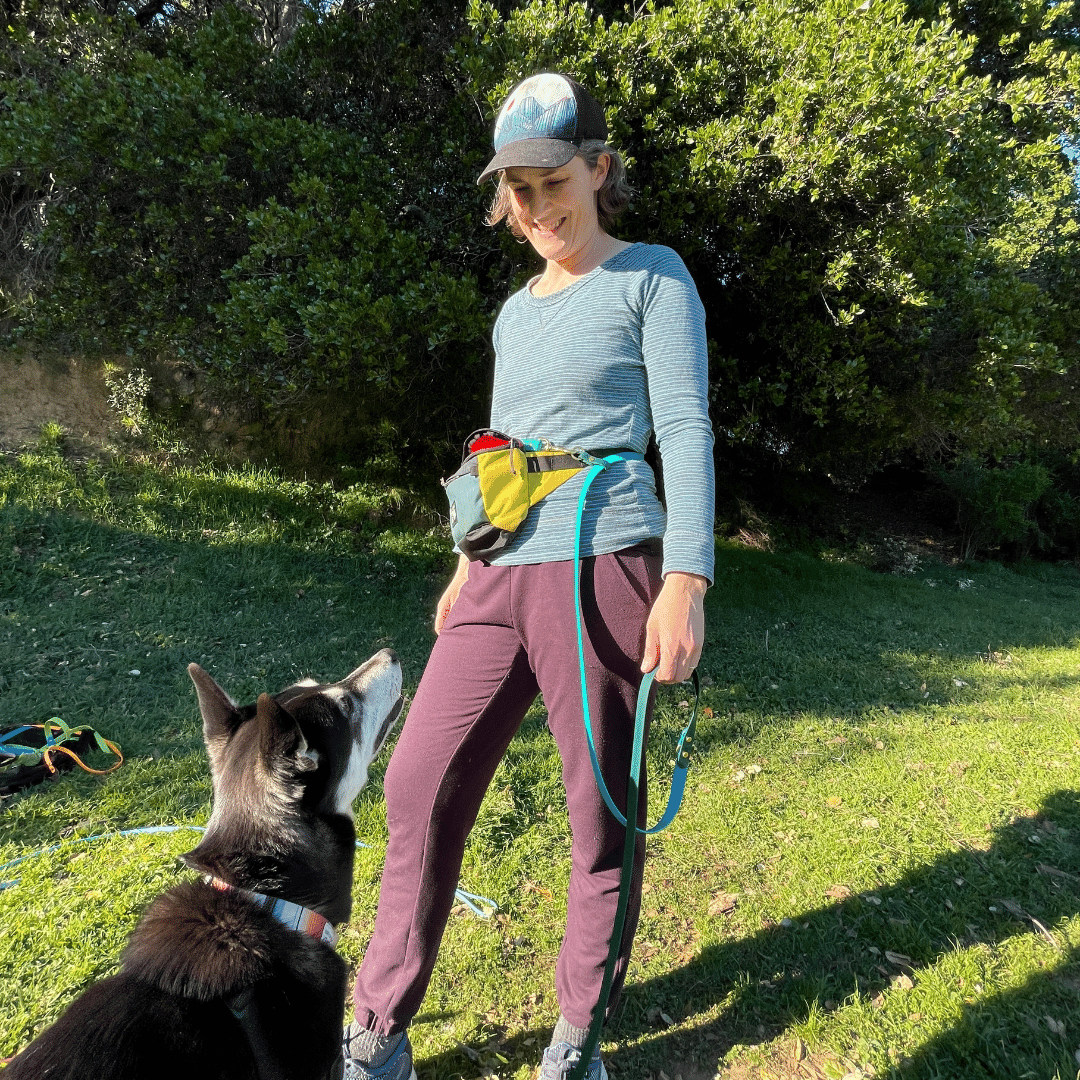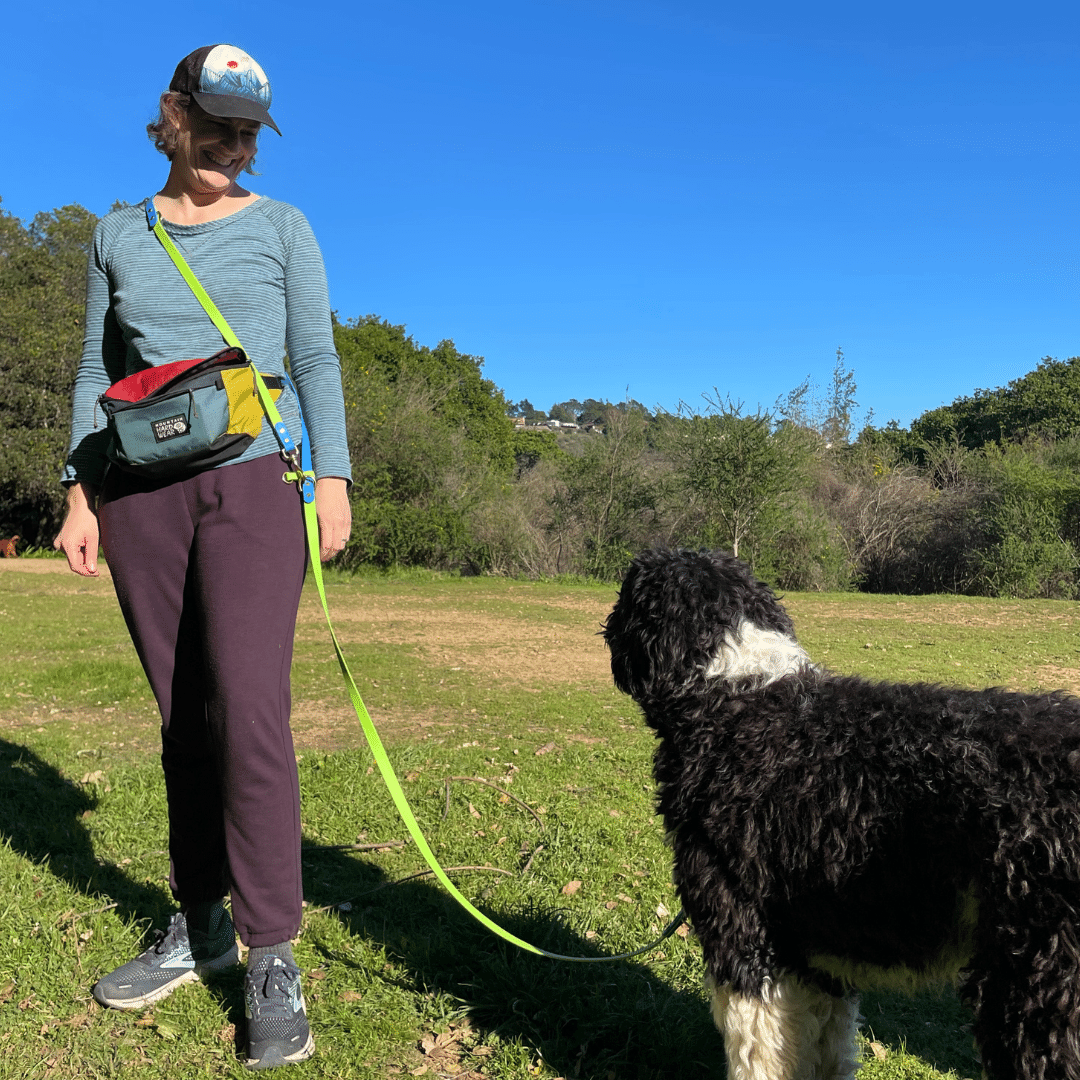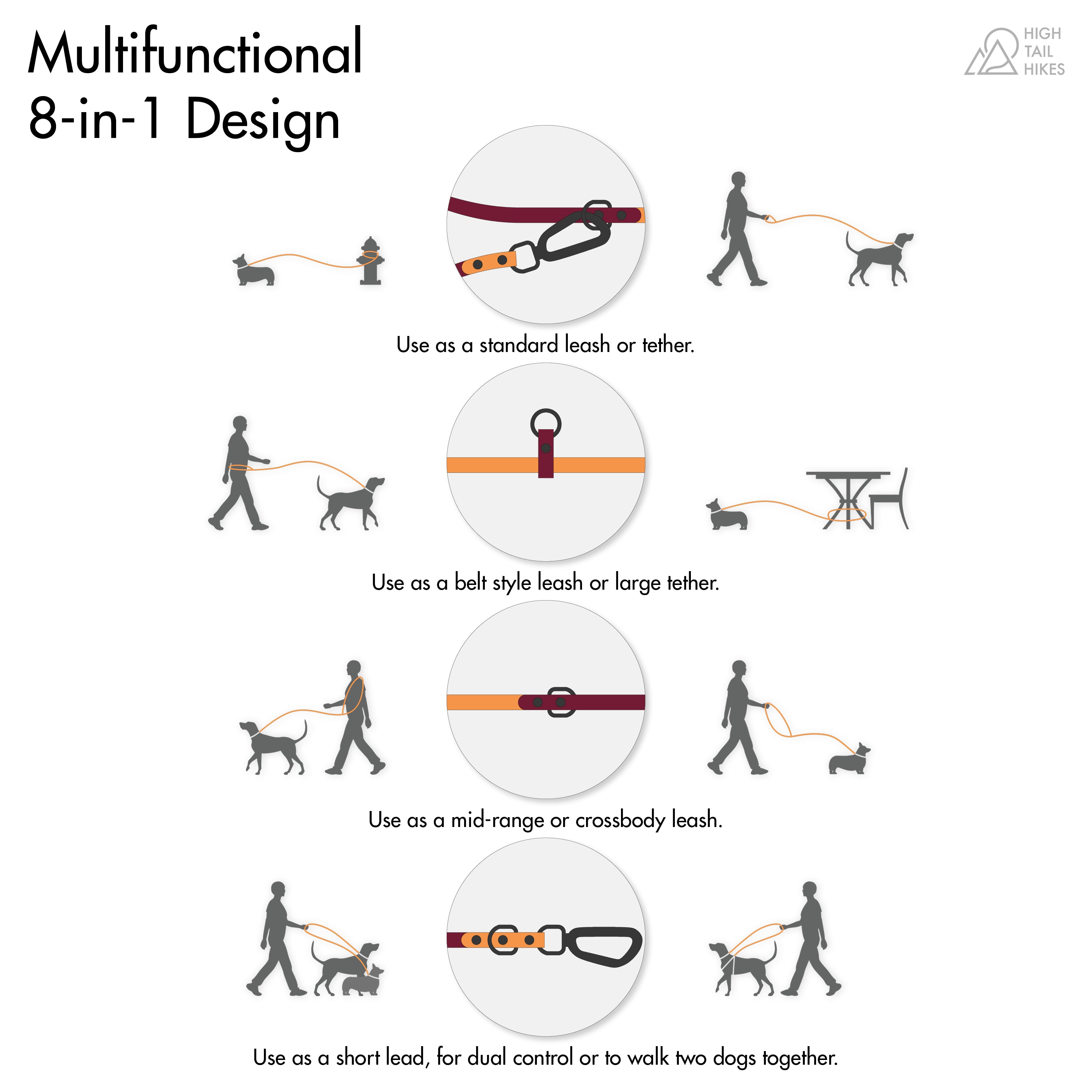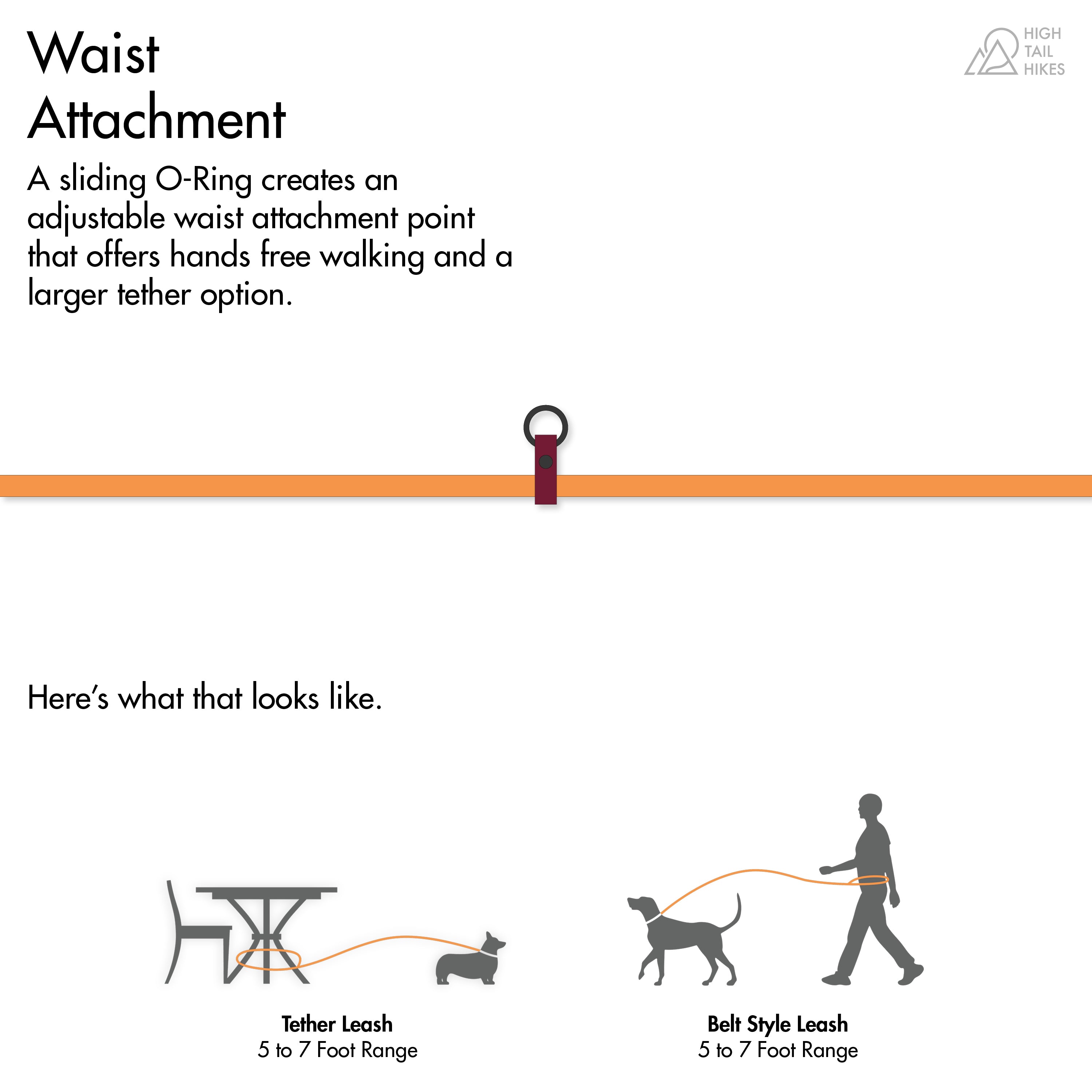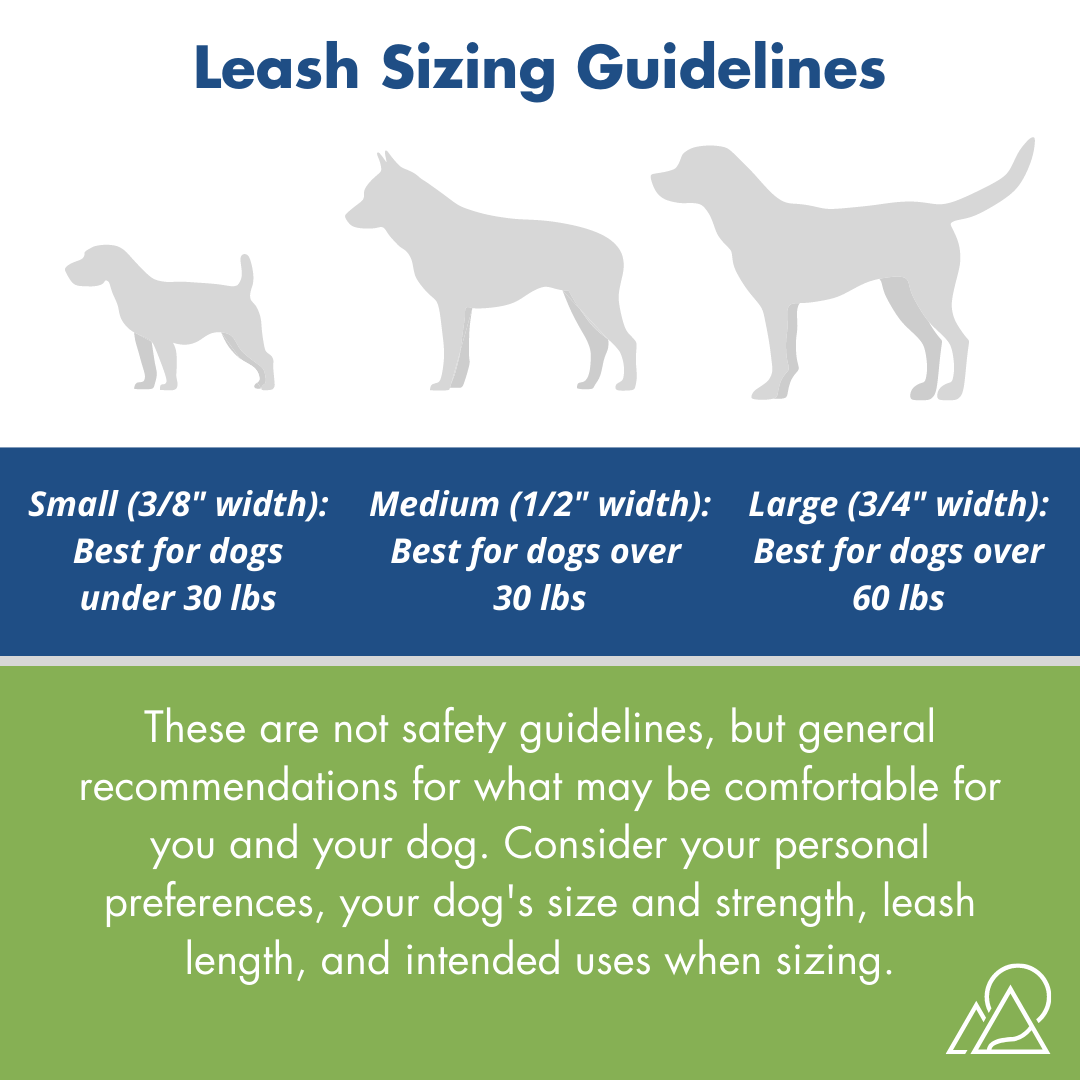 Hands Free + Convertible Brass Leash - Large Dogs (3/4" Width)
Our Hands Free + Convertible Leash is perfect for everyday use! It's lightweight and low profile, but packed with features and so versatile. With three fixed D-Rings along its length, an adjustable sliding O Ring along the upper section, and a detachable handle, it can be used it as a standard leash with three different length options, worn crossbody, or clipped around the waist. Use as a quick tether when needed (never when your dog is unsupervised), double-clip your dog's harness, or even walk two dogs.
See graphics for further specs and possible uses. Length refers to the total length from the snap to end of the loop handle when being used as a standard leash (not around waist). The section from the cross body d-ring attachment to the end of the loop handle is approximately 4". The amount of slack from the cross body d-ring to the snap that connects to your dog is as follows: 
7 foot = approx 3 ft slack  
8 ft = approx 4 ft slack 
9 ft = approx 5 ft slack 
10 ft = approx 6 ft slack 
12 ft = approx 8 ft slack 
If you are wearing the leash around your waist, you will have some additional slack due to your waist measurement being smaller than your cross body measurement. When deciding on length, think about how you will be wearing the leash and how much slack you would like to have for your dog in that configuration. 
Built with solid brass hardware and available in three widths: 3/8" (best for dogs under 30 pounds), 1/2" (best for dogs under 60 pounds) and 3/4" (best for dogs 60 pounds and up). Available in several length options - length refers to total length when standard handle is clipped. You can also choose to add a built in traffic handle to the base of your leash for extra control when needed. Select a single color for a classic look, or add an accent color to create a one of a kind, Two Tone leash customized to you and your dog's taste! 
If you are looking for hands free functionality on a longer line (longer than the lengths offered here), please visit our Leashes and Long Lines Collection, where you can request a Convertible Handle + Sliding O Ring upgrade to any long line (under the "Handle Option" drop down). 
Our leashes and long lines are made from BioThane, a vegan leather substitute that is waterproof, antimicrobial (odor and mold proof), lightweight, easy to handle, soft in the hand, and easy to clean. Your BioThane gear will hold up over years of use and will get softer and more pliable over time. 
Please note that BioThane is not chew proof and your dog should never be left unattended or tied out wearing a leash or long line. Any hands free or convertible leash product should be used with discretion and with awareness of the environment. You are ultimately responsible for the safety of yourself and your dog when using any walking equipment. Our products are guaranteed for life against defects in materials or workmanship. For more details, see our Return + Exchange Policy. For more information and care instructions, please see our FAQs.
Hands Free + Convertible Brass Leash - Large Dogs (3/4" Width)
Convertible lead: perfect for city and hiking!
We have had nylon "convertible" leads for years and years. I have always been frustrated with how they tangle, how heavy they can be and the static rings that control the length of the lead. Enter: these leads. Holy. Moley. These leads are the EXACT opposite: they are near-untangle-able, light and the sliding 0-ring is a thing of beauty.
I purchased the leash with an extra traffic handle (perfect for city living) and the scissor clip (perfect for beach adventures). This is my go-to leash for everything from city to drop-leash hikes (super easy to clean!). It's always a good day when I know I can trust my leashes! I won't lie - I have a second one in my cart right now...
The perfect leash!
I ordered this leash as a cost item as soon as it was released. I'm so glad I did. It's seriously the perfect leash for us. I've worn it cross body, around my waist and clipped it to use as a longer lead held in my hand. My daughter (pictured) loves using it too. I ordered the thicker biothane and it's a little heavy but we don't notice it once we are hiking. I love to slip it on cross body style and with a half turn to kind of wrap it around my waist it makes for great feedback for a tight heel. The biothane just rinses off and is instantly dry, the hardware is smooth and pretty.
High Tail Hikes groupie
I've made a few orders and realized I don't think I've left a review yet! This review is for my most recent order, a 12ft hands free / convertible leash for my american bully. I love it so much. My wife saw it and immediately told me to buy another for our other large dog. High Tail Hikes cares about their community and put effort into support shelters and rescues, which I greatly admire. Their biothane is high quality and the 2-tone option is my favorite because I'm all about color-coordinating my dogs (yes I'm one of those people, lol). They'll continue to get my business and I've been so pleased with everything about them so far.
12 ft worn cross body is the perfect length for us.
I love this length worn cross body. It gives a good amount of sniffing space and freedom, while being short enough to handle easily in more crowded areas.
I added scissor snaps, two tone color, and a detachable traffic handle which made this leash combo $$$, however, it was well worth the money. The service, quality and craftsmanship are always exceptional. Other biothane leashes can't compare to High Tail Hikes
Oh Tracy! THANK YOU so much for your support! We are glad you love the BioThane leashe quality and craftsmanship! THANK YOU!
Convertible hands free
I tell all my friends and all the dog people about it. Super easy to clean and super easy to use.
We appreciate your support! Thank you for sharing with everyone Ryan!